When setting up your two-step authentication for the first time. You will want to go to
1. Sign into our website. Which website you go to depends on which version of Voyant you use.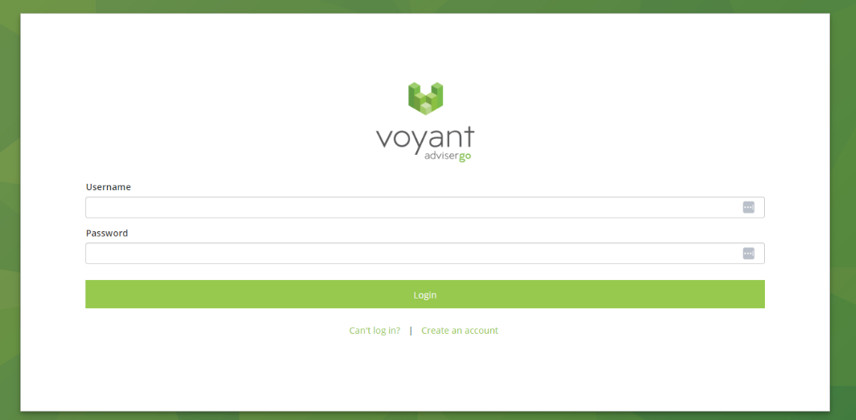 You will be redirected to the MFA setup page.
There are now two options for MFA showing.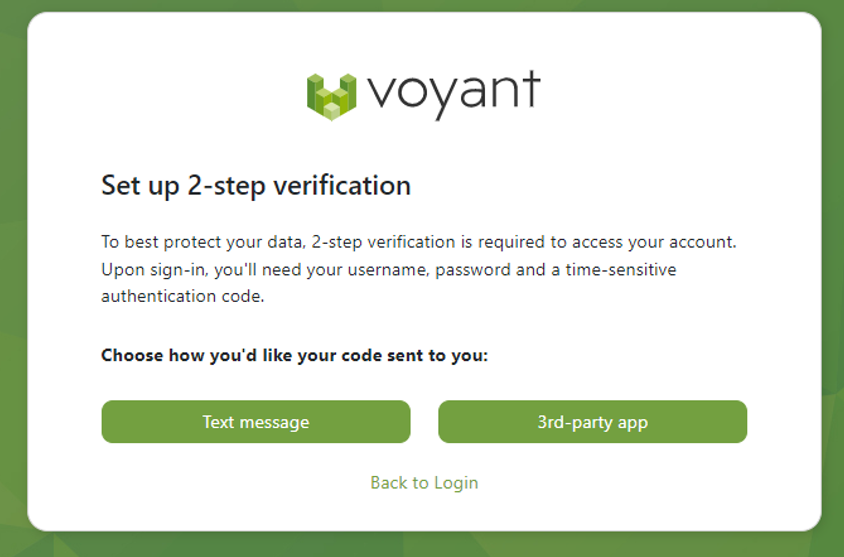 Authentication App (3rd-party app)
If you chose this option, you will have to scan a QR code using an authenticator app and enter a 6-digit code MFA code to complete setup.
If you receive the following prompt after logging in, it means that multi-factor authentication (also known as two-step authentication) is required for your user account.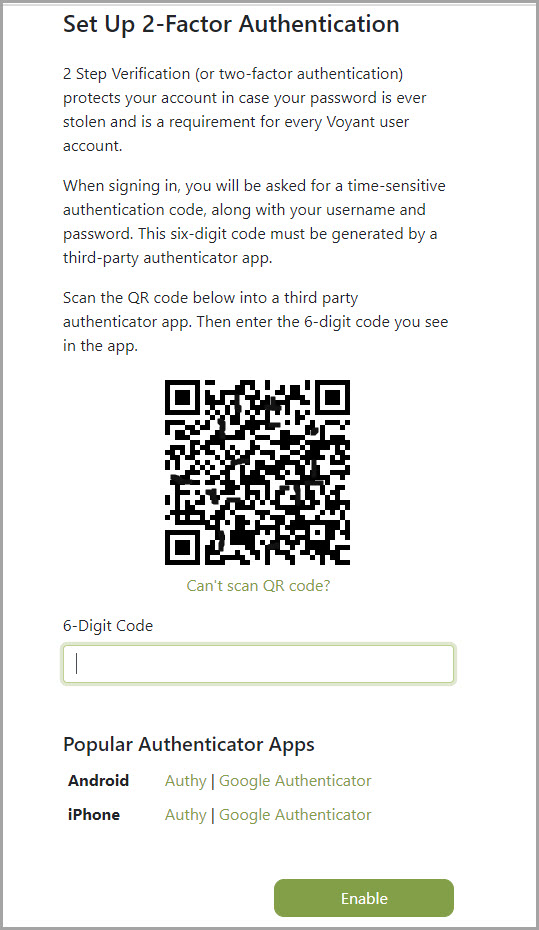 Setting up MFA in four easy steps
Step 1. Select an authenticator app from those listed on screen.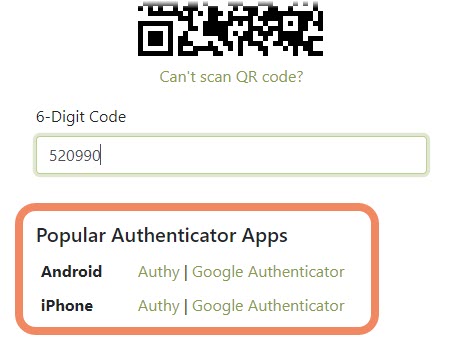 You could also use an alternative application if you have a preference. The application must generate 6-digit temporary authentication codes.

Note - The authentication apps we recommend -- Google Authenticator or Authy -- are available completely free of charge.

Some app stores, such as the Apple store, display advertisements at the top of search results, as shown in the screenshot below. These ads are usually for pay-for-use applications. Please be sure to select the link to download the suggested application (Google Authenticator or Authy) and not an alternative application advertised at the top of the screen.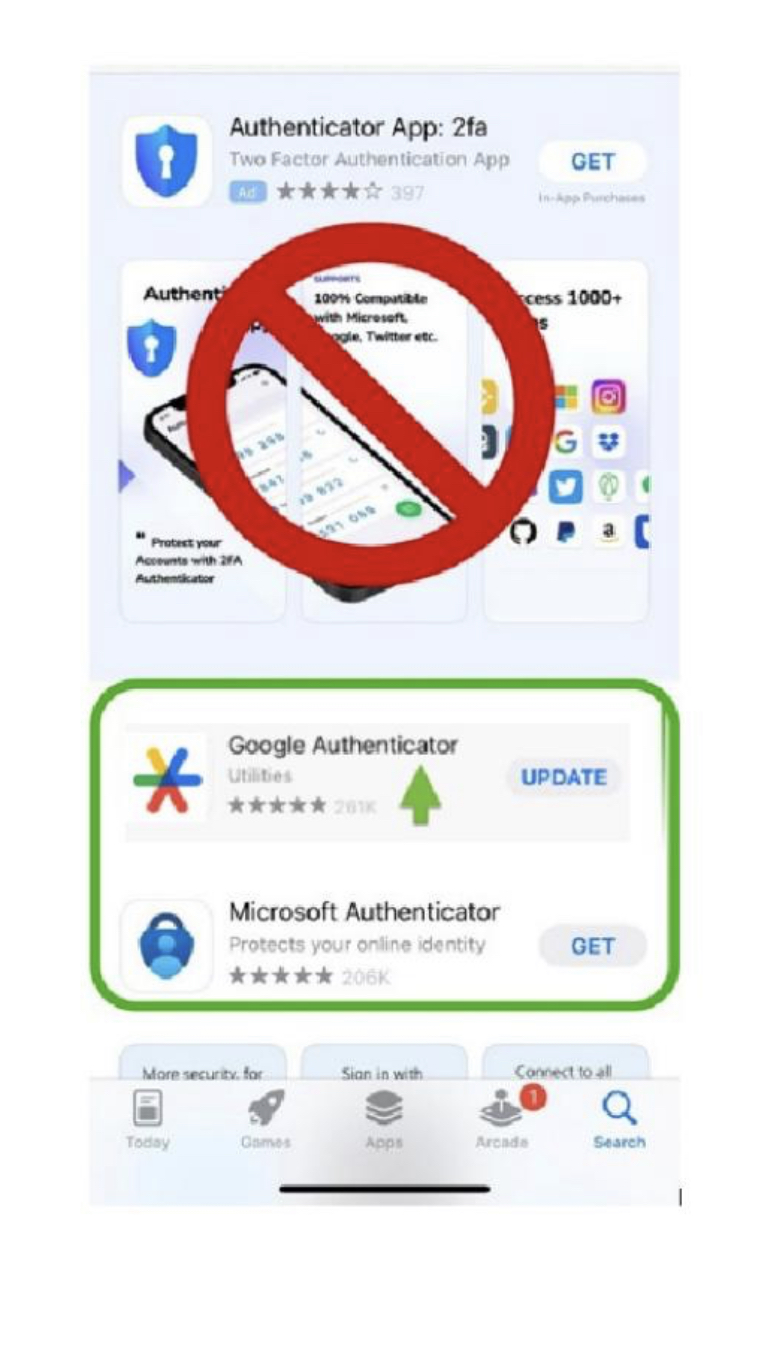 Step 2. Install the authenticator app on your mobile phone.

Note - Be sure that the mobile phone you use is a phone that you will invariably have available when logging into the software or our website. You will be effectively linking this device to your Voyant user account.

Step 3. Using the authenticator app, scan the QR code shown on screen.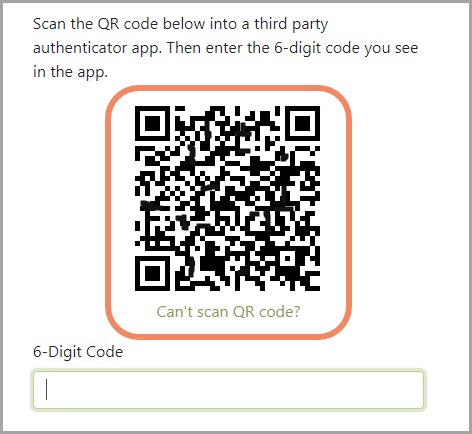 In Google Authenticator, for example, you will click the plus (+) button in the lower right corner of the application to get started.



If prompted, you might need to allow the application to have access to your mobile phone camera to scan the QR code on screen.

If you have problems scanning the QR code, click the link "Can't scan QR code?", which will give you the code to enter manually.

You will only need to scan (or enter) this code once to link the authenticator app on your mobile phone with your Voyant account.

Step 4. Once linked, the authenticator app will begin generating temporary 6-digit codes for your Voyant account.

Enter the code in the the 6-digit Code field and click Enable.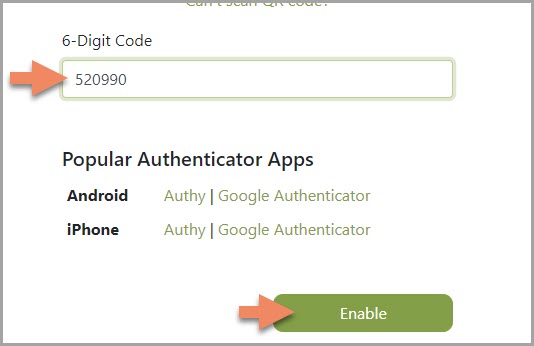 Once enabled, a link will exist between the authenticator app on your mobile phone and your Voyant account. The app will generate temporary 6-digit codes.

Going forward, you will enter the latest code shown in the app when logging into the Voyant software or website. New codes are generated every 30 seconds.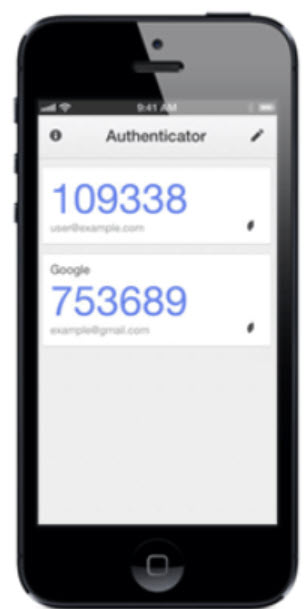 Text Message
(Voyant should pre show either +44 or +353 depending on which URL was used; UK or Ireland URL)
If you chose this option, you will need to enter your mobile phone number into the box (enter your number with the country code (UK is +44) (Ireland +353) and miss out the 0 from your number (i.e. 07999 123123 would be entered as (+447999123123) or (+3537999123123)and click continue. A code will be texted to your phone.
Enter the code into the box to finish setup. If another code needs to be sent, the "resend code" text can be clicked.
After completing the setup, the user will be redirected to an identical page and have to enter another code, which will be sent automatically upon finishing setup, to finish logging in.
What if my authentication smartphone is misplaced, damaged, or I replace it with another phone?
If you ever misplace your mobile phone, you can generate a temporary access code on the Voyant login screen. Instructions on how to generate a temporary access code can be found here -
Emergency 2-step authentication code
This temporary code can also be used to access your account if you ever need to replace your mobile phone. You will need to deactivate the account-linked device and activate MFA again.
To deactivate an MFA device log in and select 2-step verification here:
You will see the option to Deactivate device:

Next time the licence is logged into, follow the instructions to add a new device.

What is Multi-Factor Authentication (MFA)?
One of the biggest shortcomings of traditional username and password logins is that passwords can be easily compromised. The goal of MFA is to create a multi-layered defense that makes it more difficult for an unauthorised party to access to your account. If a single factor, such as your password, is compromised, an attacker would encounter another barrier, a time-sensitive code, which they would also need to successfully breach your account.
The move to MFA is to help protect your data and your client's data and will be required by all Voyant users. This is used industry-wide for added security.
Some of my clients have access to their plans via ClientGo. Will they be required to set up MFA?
No, clients are one exception. Since clients only have access to their own plan, they will not be required to set up two-step authentication on their accounts.