Essential resources for new users
New to Voyant? We have a host of resources – online, printable, and visual, not to mention a knowledgeable support staff – ready to help you get started with the software. Here is a list of the resources available to help you become acquainted with the software. If you have any questions or technical difficulties, you may reach our support staff at support@planwithvoyant.com.
Register for a no obligation 30-day trial of Voyant Adviser and AdviserGo
If you haven't done so already, to get started you will need a Voyant user account: Register for a free, no obligation 30-day trial of the software.
Voyant Adviser and AdviserGo are packaged together, so if you register to trial our software you are automatically granted access to both products. If later you decide to subscribe, there is no added cost for either product. We offer a single subscription price for both products.
Sign in to open AdviserGo or install Voyant Adviser
AdviserGo, our newest, web-based version of Voyant runs in your browser and requires no installation. Find our how to open AdviserGo here. Additional details on what your computer will need to run AdviserGo can be found in our knowledge base.
Step-by-step instructions on how to install Voyant Adviser, the legacy, desktop version of our planning software, can be found in our knowledge base. Details on what your computer will need to run Voyant Adviser can be found here.
Introductory tutorial and quick start guides
Learn the basics about Voyant in our quick start guides.
AdviserGo and VoyantGo
Introductory Learning Track for AdviserGo
Learning and Development Guide
Snapshot
For a complete list of guides, visit our Voyant UK document library.
Introductory and topic-specific webinars
The Voyant Training team offers free webinars on a variety of topics. Please visit our training channel for a calendar of upcoming events.
No time to attend a live webinar? recordings of past presentations can also be found on our training channel. Scroll down to the 'Recently Added' section and click 'Load More' to see the full range of available presentations.
More videos
We have a range of videos available including our AdviserGo Highlights and our Getting Started, Entering your First Plan videos:
You can also visit our YouTube channel for all of our instructional and how-to videos.
Online help, the knowledge base
Voyant offers a searchable knowledge base of online help topics at support.planwithvoyant.com.
AdviserGo also comes with its own Inline Help which can be turned on at the user level. Click here to find out how.
To access the knowledge base from within AdviserGo, firstly turn on Inline Help. Next, click on any words which have a green dotted line underneath them or any

symbol to open the Inline help window. Then click the Help tab, and click Search our knowledge base.
Our online help can also be accessed from the Voyant Adviser software by clicking the help button - the question mark (?) top-left - then clicking the Online Help button.

Contact the Voyant Support Team
If you have any questions or require further assistance, please contact Customer Support. There are several ways to reach our team:
If you are working in AdviserGo, firstly turn on Inline Help, click here to find out how. Next, click on any words which have a green dotted line underneath them or any

symbol to open the Inline help window. Then click the Help tab, and click support@planwithvoyant.com to send us an email.
If you are working in Voyant Adviser, click the help button - the question mark (?) top-left and submit a support request using the inline support request form. It will automatically capture details from your user profile, details about the plan you are working on, as well as system details about your computer's operating system, all of which can be indispensable when troubleshooting.
You can also e-mail or phone us.
E-mail our team directly at support@planwithvoyant.com.

Phone us on (0)20 8090 3601. Note: If you receive our voice mail, please do leave a message. We will return your call as soon as possible.
In any case, a member of our support staff will contact you as soon as possible.
Schedule an extended support session
Need that extra bit of help beyond a quick support call or e-mail response? Whether you are entirely new to Voyant or a seasoned user of the software, feel free to schedule a fifteen minute session with a member of our support team. A limited number of appointments are available weekday afternoons and evenings. What's more, there is no additional cost for this service.
To schedule an appointment, E-mail our team directly at support@planwithvoyant.com.
In-person training
Unfortunately we're not able to offer face to face training sessions at present, however, we hope we will be able to resume these sometime in 2021.
We can arrange a bespoke webinar training session for you and members of your firm which would be chargeable. The topics covered in a session can be determined by your firm. If you would be interested in arranging one of these please contact Voyant Support.
Join our e-mail list
Voyant regularly sends announcements of software updates, training, user tips, and special offers to members of our e-mail list. Subscribers and trialists are added to the list automatically. However, if you've never received announcements from Voyant and would like to be apprised of the latest, click here to join our e-mail distribution list.
Additional Resources
In addition to training and support, Voyant has other services and options that you may want to take advantage of as a subscriber or during your trial of the software.
Invite a client to access their plan online Using VoyantGo
VoyantGo is our web-based client facing software, which allows clients to review and edit plans created by an adviser. It can also be used as an electronic fact find to begin a new plan.
VoyantGo is add-on service for which there is a monthly charge; however, if you are trialing Voyant, you are granted acess to two VoyantGo licenses, which you are welcome to use with two of your clients.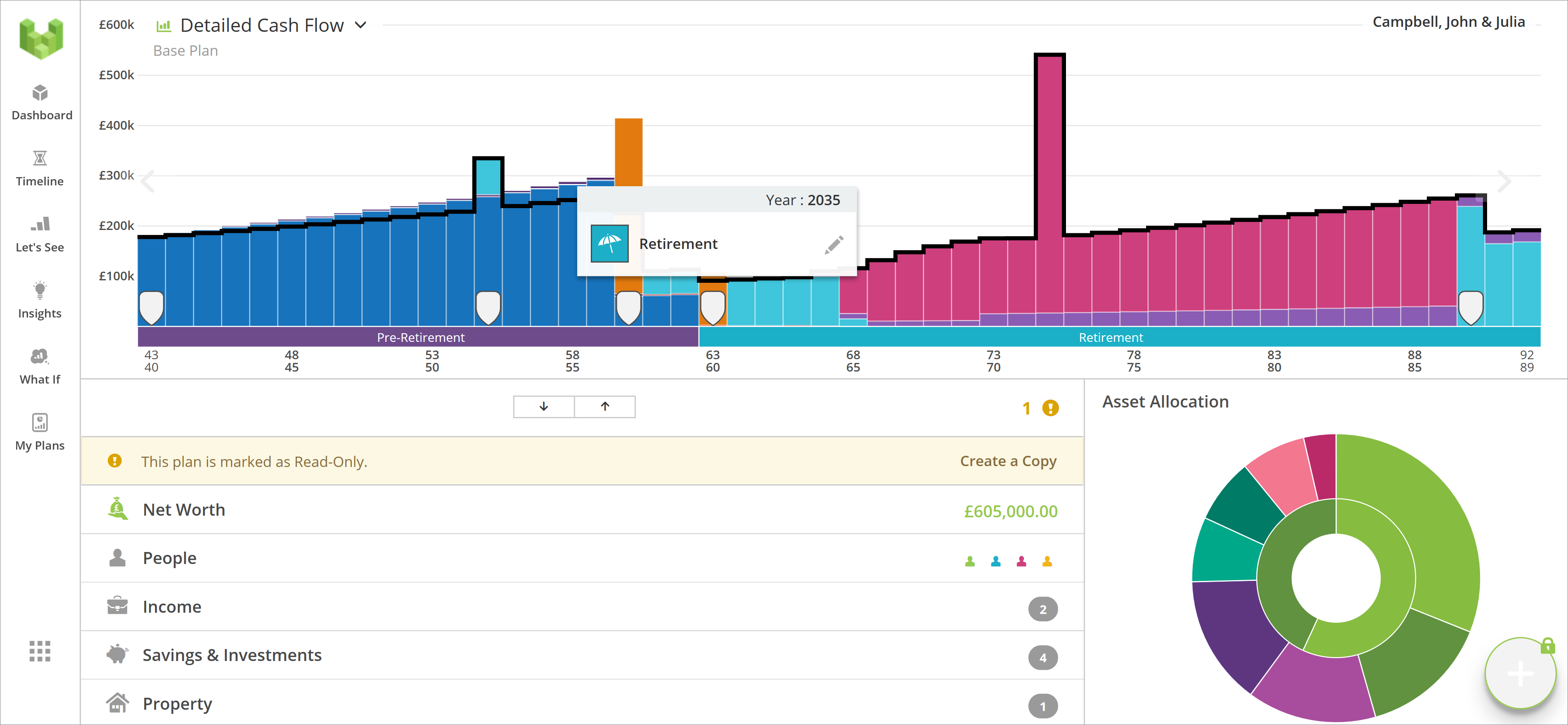 When used together with our optional white labelling (rebranding) service, a customised link can be added to your firm's website, allowing clients to launch the rebranded VoyantGo directly from your website.
Additional information on VoyantGo can be found on our website or visit the VoyantGo FAQs here in our knowledge base.
Client fact find, questionnaire
Voyant's printable PDF format client questionnaire is available on our website.
Comprehensive UK Fact Find - Our full print-only version of the UK fact find.
UK Expense Questionnaire - A shortened print-only version of our UK fact find for collecting basic personal details and expenses only.
An Important Note Regarding Importable Fact Finds - Due to GDPR compliance, Voyant can no longer support the importable, fillable PDF fact finds we once offered. Voyant can be responsible for the security of client data only after it is entered or imported into our software.
The mechanism for importing fact finds is, however, still available in the software. Firms who wish to fashion their own importable fact finds may do so. These documents must be fillable Adobe Acrobat PDF forms and the fields within them must be coded with Voyant data input values in order to be importable into the software.
If you would like to create your own fillable PDF fact find, please contact Voyant Support to request the original source documents. These documents contain the fields necessary to create a document that is importable into Voyant.
Integrated FinaMetrica risk profiling system
Voyant has integrated FinaMetrica's award winning risk profiling solution into Voyant Adviser as a bolt-on offering. This service can be activated for your account free of charge, provided that you are an active subscriber or trialist to both Voyant and FinaMetrica.
Are you currently a FinaMetrica subscriber? Please contact Voyant Support to request service activation. Our support staff will contact FinaMetrica to arrange have your integrated service activated.
Note: If your firm's FinaMetrica subscription is registered under a name other than your own, please let us know the name of this person as it will assist FinaMetrica in identifying your account. FinaMetrica subscriptions are registered under the names of individuals, not by firm name.
If you are not currently a subscriber with FinaMetrica but would like to try their service, free of charge or obligation, please register on their website: http://www.riskprofiling.com/trial.
Other Partner Integrations
In addition to FinaMetrica, Voyant currently offers integrations with the following partner service providers in the United Kingdom.
Curo, Time4Advice - back-office system
Fastrak, Sprint Enterprise Technology - data aggregation, reporting
FinaMetrica - risk profiling
Intelligent Office, Intelliflo - practice management
Morningstar - equity and fund pricing feeds
Plum Software - back-office system, CRM
7IM, Seven Investment Management - platform
Transact - wrap platform
If you or your firm subscribes to services from any of these providers, please contact Voyant Support for further assistance. We will gladly switch on any of these integration plug-ins for our subscribers and trialists, provided that they have made whatever arrangements are necessary with the integration partner as subscribers or trialists of their services.
Further details and a complete list of our integration partners worldwide can be found here. Read more >>
Related topics