Voyant comes packaged with default preferences which set the assumptions used when new client cases are created.
For example, if you add a new investment to plan, it will receive the software's default growth rate for investments, a value set in Plan Settings in the Default Inflation / Growth Rates section. This default value will be used as the investment's growth rate unless you edit it for that particular account.
If your firm would prefer to use its own set of preferences, you are able to customise the preferences used for new clients. This can be self-managed or customised via a white label.
If self-managing, subscription preferences can be customised for your subscription by the Subscription Owner or Subscription Manager or by a user who has been granted the Subscription Preferences Setup role.
Preferences customised this way will be the defaults for new clients added by all users within the subscription.
Alternatively, if you have a white label, you can customise your preferences via the white label - click here to find out more.
How to customise Subscription Preferences
1. Log in to your account in AdviserGo and go to the Home page.
If you are the Subscription Owner or Subscription Manager or a user who has been granted the Subscription Preferences Setup role, you will see a Subscription Preferences option on the top menu.
Click Subscription Preferences.
2. The screen which appears looks like the Plan Settings screen which is found in each client record.
Work your way down the left hand menu, editing the fields in each of the screens to your firm's desired settings.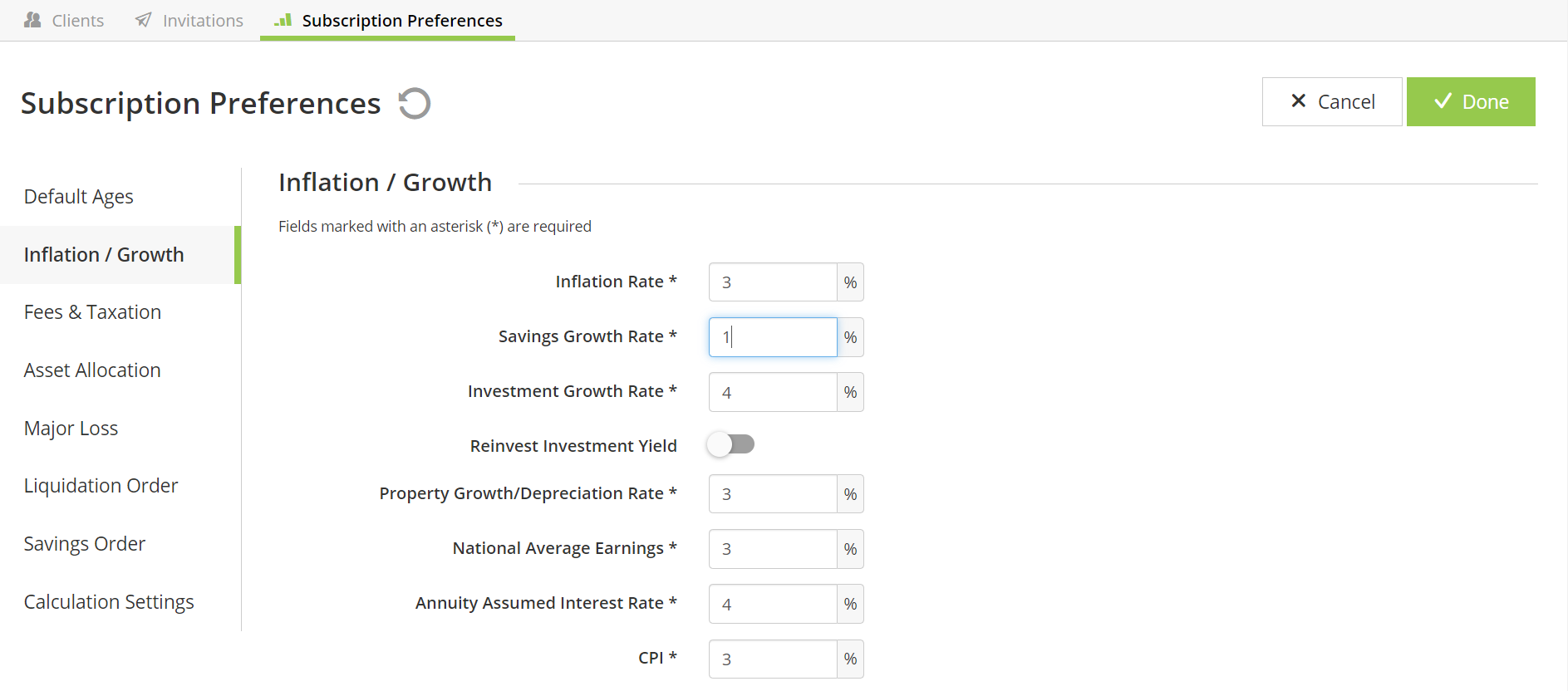 Once you have finished updating all the settings you want to customise, click Done. This creates a new set of preferences with a unique timestamp.
3. Create a new client record and check Plan Settings to verify that they match the new subscription preferences which you have just input.
4. Notify your colleagues that you have changed the subscription preferences.
Important Note - each time Done is clicked in the Subscription Preferences screen a new set of preferences is created with a new timestamp, even if no changes have been made. If you are only viewing the preferences, and not editing them, be sure to click Cancel when finished instead of Done.
Tip, existing client records - the new preferences only apply to new client records. Existing client records retain their existing preferences. When an existing client record is opened after a subscription preference update, a message will appear stating Plan Settings are out of date (based on the timestamp):

Click here to find out more about updating an existing plan to use a new set of Subscription Preferences. Note that you may wish to update the start date of a plan before you update a client to use the new Subscription Preferences.
Tip, custom market assumptions - note that market assumptions are not customised in the Subscription Preferences, but can be customised elsewhere. You can read more about that here.
Tip, resetting subscription preferences - if you want to reset the Subscription Preferences to the software's defaults, go to the Home screen and click Subscription Preferences. Click the Reset arrow, then click the Reset button to confirm:
New client records will now use the system default preference rather than the old custom subscription preferences. Existing client records will retain their existing Plan Settings.