Q - The Growth % field is disabled (greyed out). I am unable to switch off "use asset allocation" to use a fixed growth rate.

A - Normally in Voyant you have the option to grow accounts using either a fixed growth rate or to have growth derived from an asset allocation.
This setting is found on the Growth (or Growth and Yield) panels of the Investment, Savings, Money Purchase and Unsecured Pension screens. Leave the Asset Allocation checkbox unticked and the adjacent fixed growth rate will be used as the account's growth rate. Tick this checkbox and an asset allocation will be used instead to derive the growth rate.
If you are finding that this option is not available – Use Asset Allocation is ticked and cannot be deselected (is disabled) – you have a special calculation preference set to "Grow [all] accounts using asset allocation".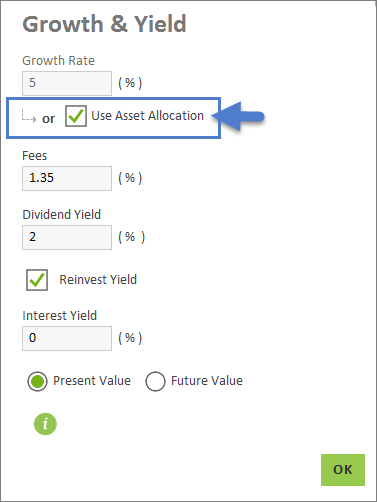 If you would rather have the option to use a mix of fixed growth rates and asset allocations in the plan, setting this on a per account basis:
1. Click Preferences (the cog icon, top-left).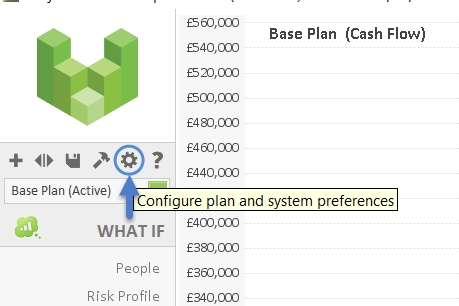 2. In Plan Preferences on the right side of the Preferences screen, expand the bottom most panel, Calculation Settings.
3. Check the "Grow All Accounts Using Asset Allocation" or "Grow all savings and cash accounts using 100% cash asset allocation"setting. If these are ticked, untick them.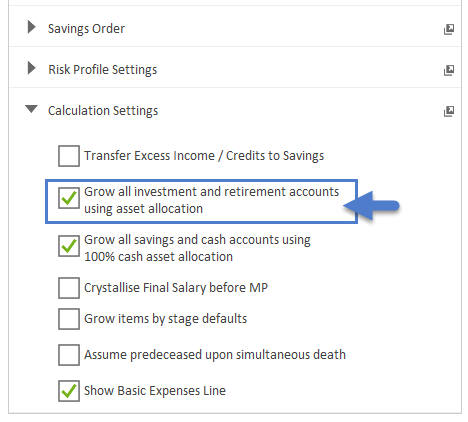 4. Click the Apply button to save this change or click OK when asked whether you want to save your changes.
5. If you want to make this the software's default mode of operation going forward, as you create new plans, also untick the "Grow [All] Accounts Using Asset Allocation" in the Calculation Settings panel to the left side of the screen, under System Preferences.
Important Note: It is important to understand that switching off this preference will switch all of your savings, investments, money purchases and drawdown pensions from using an asset allocation to use of a fixed growth rate for calculating future returns.
6. Once completed, review the investments in the plan and set them accordingly. Enter a fixed growth rate for the investments that are to be grown using a fixed growth rate. Tick Asset Allocation for those that are to be grown using a derived growth rate and on the subsequent Asset Allocation panel, load or enter the appropriate portfolio/allocation.
Related topics
Grow [all] investment and retirement accounts using asset allocation (preference)
Grow [all] savings and cash accounts using a 100% cash asset allocation (preference)
Growth and Yield - Setting capital growth, dividends and interest on investments