A deactivated user account can be reactivated at any time by clicking the Enable User link, which will display after the account is disabled.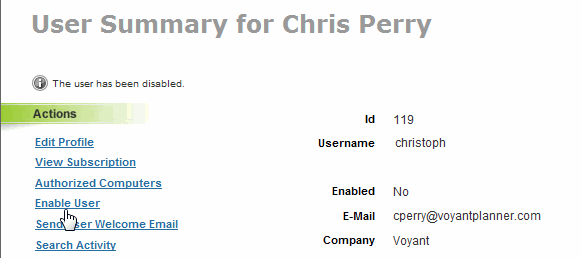 To reactivate an account, your subscription must have at least one adviser or paraplanner licence available for the reactivated account to use, depending on the account's permissions.
1. Sign into our website. Which website you go to depends on which version of Voyant you use.
- Voyant Adviser (US) http://www.planwithvoyant.com
- Voyant Adviser (UK) http://www.planwithvoyant.co.uk.
- Voyant Adviser (UK for AXA Elevate) http://elevate.planwithvoyant.co.uk, click Adviser, and sign in using your Elevate platform user name and password.
- Voyant Adviser (Ireland) http://www.planwithvoyant.ie.
2. Sign in using your user Voyant account.
3. Click My Subscription in the website's top navigation bar.
4. A count of the number of used and allowed adviser, paraplanner, and consumer licences will be shown on this screen.
If additional licences are needed, arrangements can be made by contacting us at Voyant customer support at support@planwithvoyant.com.
5. Next, select My Subscription.
6. Click View Users in Subscription.
A complete list of users within the subscription will display.
7. In the Full Name column, click the name of the user whose account is to be deactivated.
The user's profile will display. You may scroll to the bottom of the user's profile to verify whether the account has the Adviser or Paraplanner role. This is the type of licence that will need to be available to reactivate the account.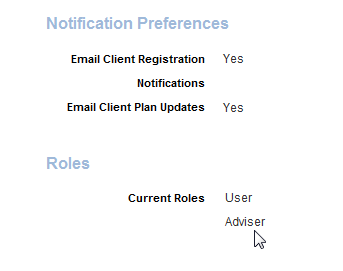 8. Click Enable User.
Doing so will reactivate the account, provided a licence is available.
Note that a waiting period is enforced on deactivated accounts. This is done to prevent licensing abuse. If you have disabled an account in error and need it reactivated immediately, please contact Voyant Support at support@planwithvoyant.com.