Most commonly, an adviser or paraplanner will first use Voyant to build a financial plan for their client. The adviser can then invite the client to access their plan via VoyantGo. Each Subscription is granted two complimentary consumer licenses, for more information on obtaining additional licenses you can contact our support team at
support@planwithvoyant.com
Clients can, in turn, use the software to review their current long-term outlook as well as the adviser's recommendations, all of which are set automatically to be read-only. Only the advisers can make changes to the cases they create. However, clients do have the option to explore and share feedback with advisers by adding changes via what-if scenarios.
To invite a client to access a client case that you have created:
1. In Voyant enter the client's name, and click Search.
2. In the row displaying the client's name, click on the 3 dots and "Invite Client".


Note:
If the Client Access column shows the status of your client as being "
Connected
" or "
Pending
" this indicates the client has already been invited and has accepted your invitation. There is no need to re-invite the client. However, if your client does not remember their user name and/or password, standard account reminder and reset tools are available on the login page of the Voyant website.
Read more >>
Or if you are already viewing the client's case in Voyant:
1. Click the client's name top-right.
2. Select Invite Client.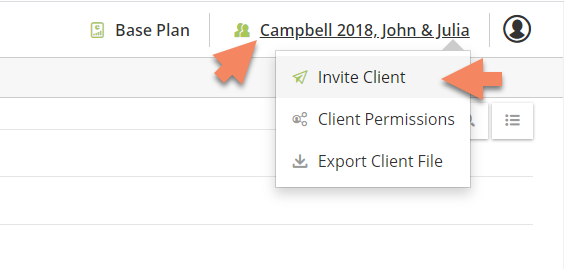 A window will open stepping you through the invitation process.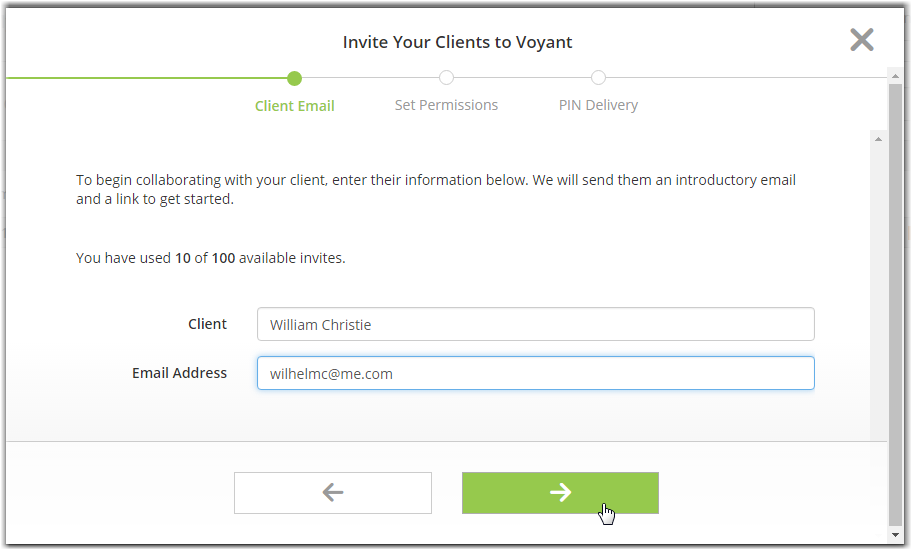 Notice the first panel displays the number of invitations currently available to be sent.

If you find your subscription is currently out of invitations, the first thing to do would be to check for unused invitations and consider rescinding at least the ones that are the most longstanding.
Read more >>
4. Enter your client's Email Address and click the next button (right arrow).
An invitation will be sent to this email address in just a moment.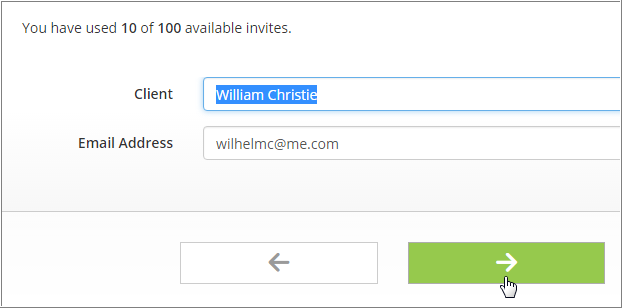 5. Next, select the plans/scenarios you would like your client to see.
At the very least, your client must be able to see their latest Base Plan, which is the foundation of their financial plan. What-if scenarios are hidden initially, by default.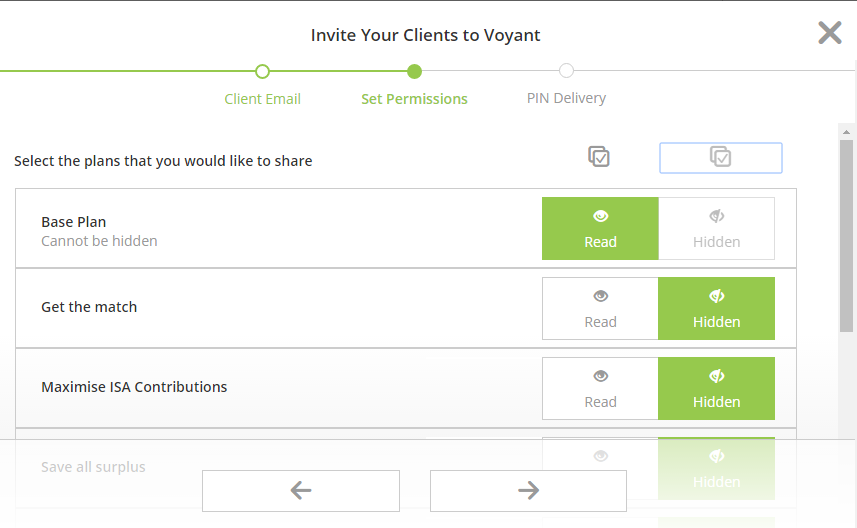 To make an individual scenario visible, click the Read button next to it.

Or to display or hide all scenarios, click the tick box above the Read or Hidden column, respectively.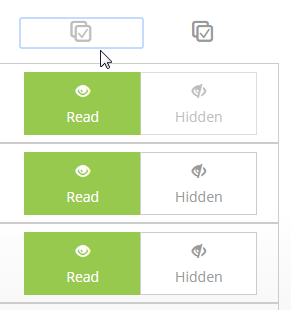 Note: Any work that you make visible to your client will be read-only, which keeps any work you've done to date on the plan unchanged. Your client can still make changes and share information with you by creating editable working copies of the base plan or any of the visible scenarios.
Later, you can manage your client's access to the scenarios in their financial at any time by simply opening the client case, clicking the waffle menu (lower-right) and clicking Client Permissions.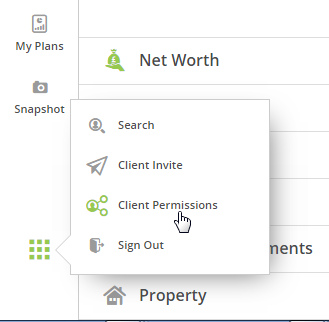 Set the scenarios as visible or hidden and click the check mark, bottom-right, to save your changes.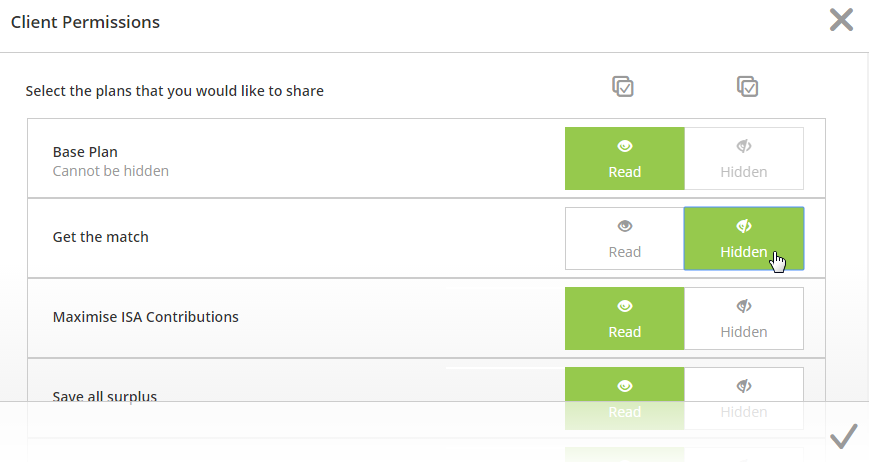 6. Click the next button (right arrow) to continue.
As an additional a security precaution, you will send your client a PIN. If the invitation was sent by mistake to the wrong address, a second piece of information, this auto-generated PIN, would still be required to register and access your client's case.
There are two ways to generate and send a PIN to your client. A PIN can be sent via text to your client's mobile or you can deliver it yourself by phone or separately by e-mail.

7. To send a PIN to your client's mobile via text, click Text to Mobile.
8. Select the appropriate country (country code) for your client's mobile number and enter their number.
9. Once entered, click Send Invite.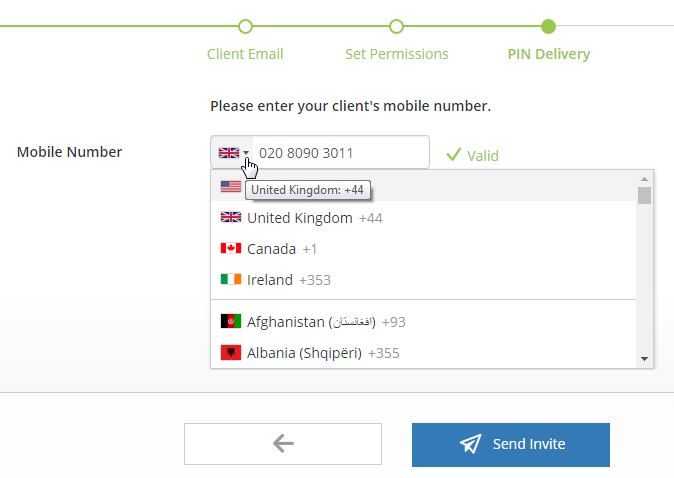 7. Alternatively, to personally deliver the PIN to the client, click Deliver Myself.
8. A PIN will be auto-generated. Be sure to copy and save it. Then send the PIN to your client by phone, e-mail, or perhaps even by post.
9. Once you have copied and saved the PIN, click Send Invite.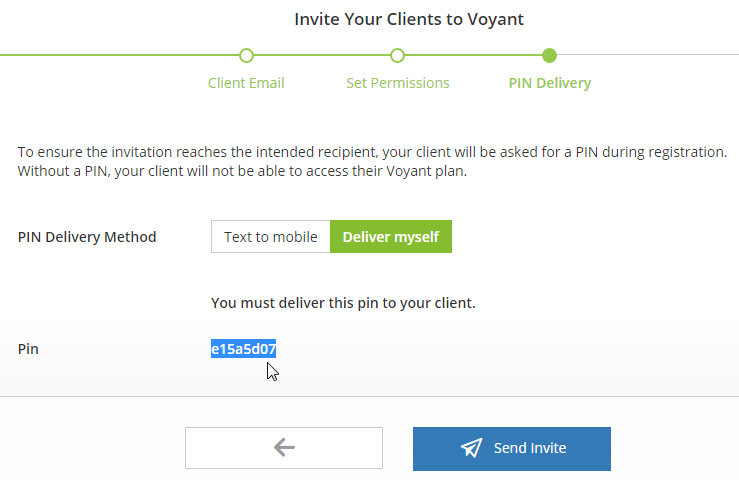 A message will appear indicating whether the invitation was sent successfully. Click OK.