After logging into AdviserGo you will see the software's Home screen, pictured below. Later, as you build a store of client cases, this will be the screen to visit to access them.

Start a new client case from the Home screen
Click the plus button (+) bottom right to begin work on a new client case.
Tip, Always look for the plus (+) button – Whenever you need to add anything to a plan, simply click the plus button (+) bottom right. This button is found on every screen in AdviserGo that involves plan building.

Other Options for Building New Client Cases - Importing client information from third-party integrations
If you are trialing AdviserGo for the first time, the software will go directly into the details of your client. But if your firm already has a Voyant subscription, you might be given an option to import client information from other systems (as shown below).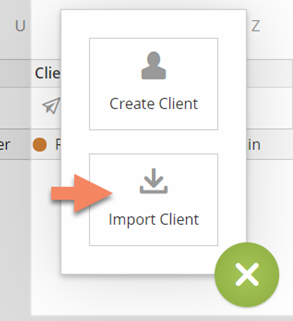 Voyant has integrations with numerous third-party data and service providers, including Intelligent Office, IRESS, FinaMetrica (for risk profiling), Time4Advice (Curo), Morningstar (for investment valuations) and several others. Through these integrations, the software can pull client information and, in some cases, risk profiles, investment holdings and their latest valuations. Information from these external sources can be used to supplement or update client information you have already entered in AdviserGo or in some cases, could be used as a foundation upon which to build entirely new client plans in AdviserGo. Read more about integrations in AdviserGo.
Feel free to contact Voyant Support for further assistance. We will gladly switch on any of these integration services for our subscribers and trialists, provided they have made whatever arrangements are necessary with the integration partner as subscribers or trialists of their services.