1. Visit the Voyant Ireland website and log in.
2. Select the Clients menu at the top of the screen and either select Client Search, to find the client in question, or select My Connected Clients to view a complete list of your clients.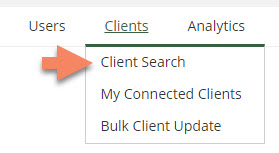 3. From your list of clients or the search results, select the name of the client, as shown below.

4. After selecting the desired client record, scroll a short way down the page. and click Add Client Share, as shown below.

The Add Client User Share screen will display. On this screen, you'll be invited (as shown below) to choose the level of 'access' you wish to grant your colleague. The levels of access are:
Full Control - Full access to read, edit, and importantly, share the file with others in your firm if necessary. Granting another user full control over a client case effectively makes that user a co-owner of the case.
Read/Write - View and edit the client file.
Read Only - Read-only access to the client file.
5. Select the appropriate level of access you wish to grant to your colleague and click Next.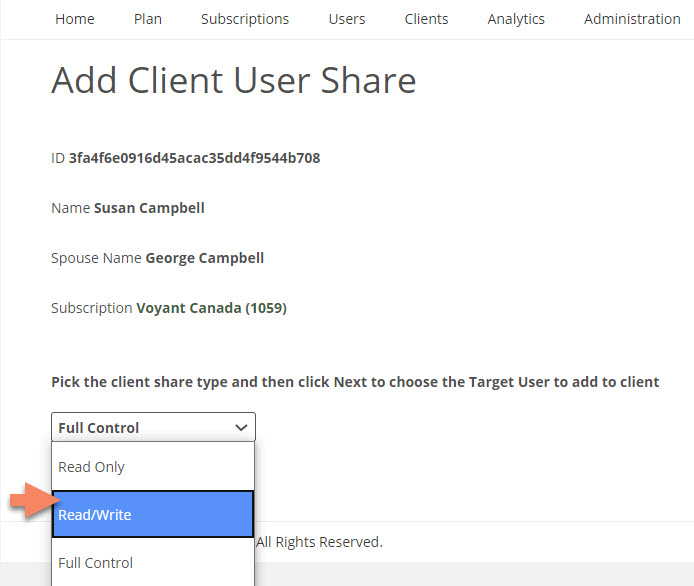 6. Next, use the search form to find the person with whom you want to share the client record.
Note - Sharing is usually limited only to fellow users within in your firm's subscription. For larger enterprises, this could mean individuals who work in your office or branch. The search function will filter results accordingly, only showing users within your firm, branch, or office.
If you need to share with individuals outside of your immediate subscription, office, or branch, contact Voyant Support to enquire about options for sharing with external users, which is usually done via teams.
7. In the search results presented further down the page, select the person with whom you want to share the client case and click Select User, as shown below.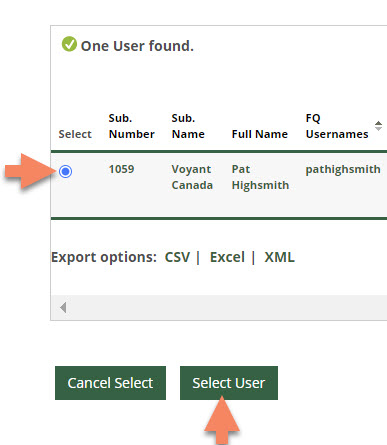 7. You'll be asked to Confirm your decision, after which you should get a confirmation message similar indicating whether the share has been added.

8. Finally, scroll down the page where you should see your colleague is now in the list of shares, showing their level of access to the client file.
Here you could click the Add Client Share button again if you need to share the same record with additional colleagues.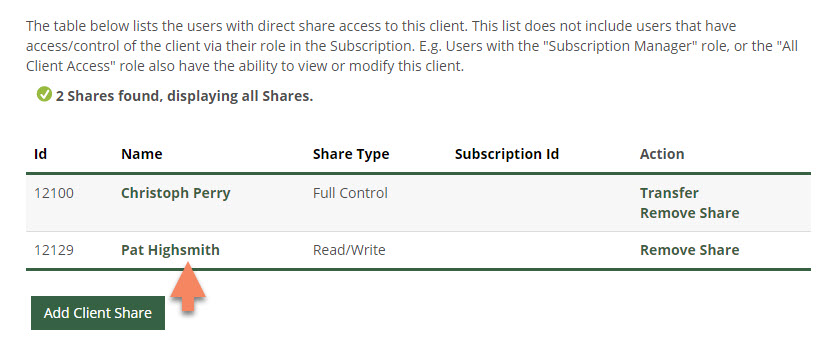 How to Remove a Client Share
If later you need to remove sharing, simply sign into our website, find and select the client (as described above in steps 1-3), scroll down to the list of shares in the client's profile, and select Remove Share, as shown below.