ClientGo is a great fact-finding tool. Your clients can enter their current income, savings, and expenses as well as their future goals and lifestyle objectives.
Open AdviserGo and from the Home page select Invitations.

Select the '+' button in the bottom right corner.
You will then be prompted to enter the client's name, email address. Once completed, click on Send Invite.

Your client will receive an acceptance email from Voyant which they need to complete.

Your client should accept the invitation. This link is found in the body of the email.

Your client will be prompted to complete their own username and password and to Sign Up.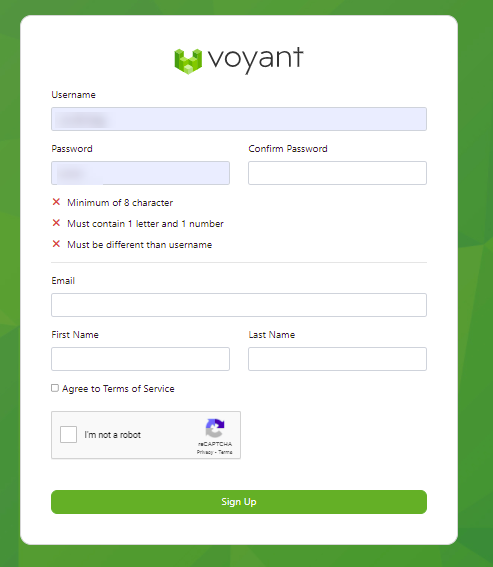 After the registration has been completed, your client will receive an acceptance email. Once they activate their account using the link in that email. They will be able to log in to ClientGo.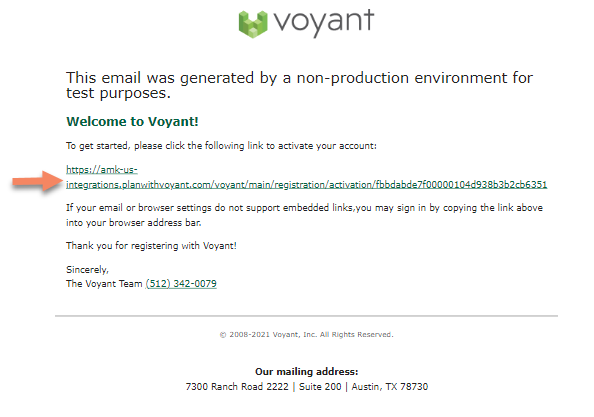 Clicking this link will activate their account and redirect them to the log in screen.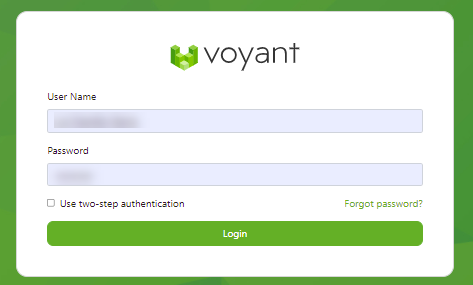 The journey starts here.
Your clients are first prompted to 'Tell us about your family' where they can enter their own personal details as well as those of their partner, children, grandchildren etc..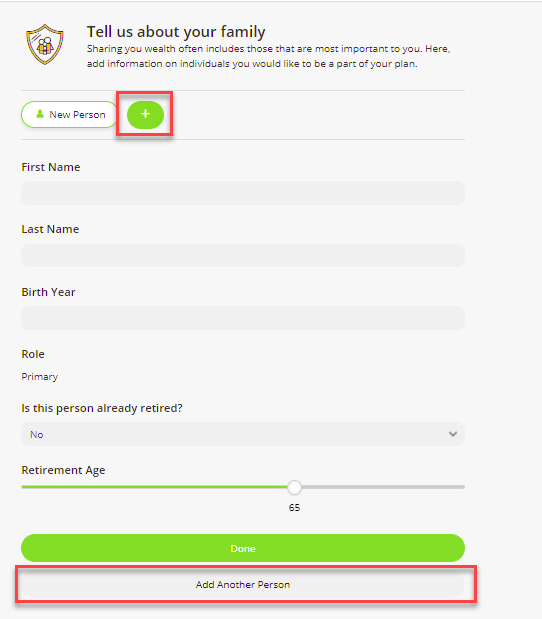 Click 'Add Another Person' or the '+' for each new person and click 'Done' when all the people they wish to add to the plan have been entered. It is possible to edit this section and add or delete people later.
NOTE: ClientGo is configured to collect a YYYY only for date of birth. You will see all dates of birth pull through into your view in AdviserGo as 01/01/ YYYY. You can edit this.


Your clients are taken to the Get Started Dashboard and will work through the journey of adding their Goals, Finances and Expenses. They should click on Get Started in each of the Goals, Finances and Expenses tabs to add details to each section.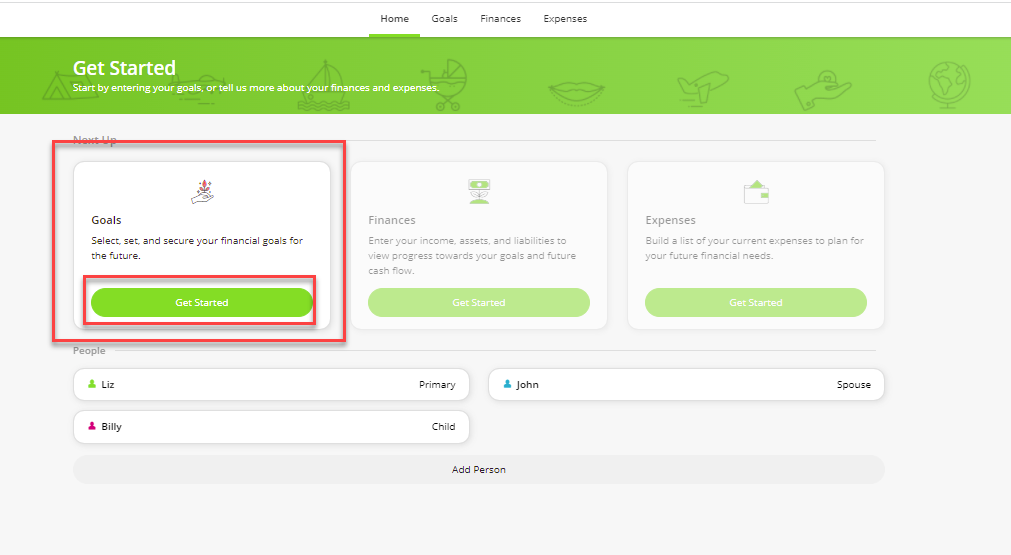 If your client has a Goal of going on a once in a lifetime family holiday, they should select Get Started in the Goals tab.
There they will see a menu of suggested Goals e.g.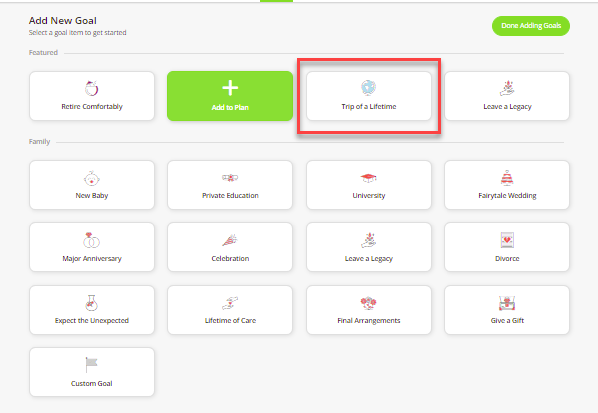 They should select a Goal. The name of the Goal can be edited in the Name field. Your client can edit the owners of the Goal and enter the amount they would like to spend.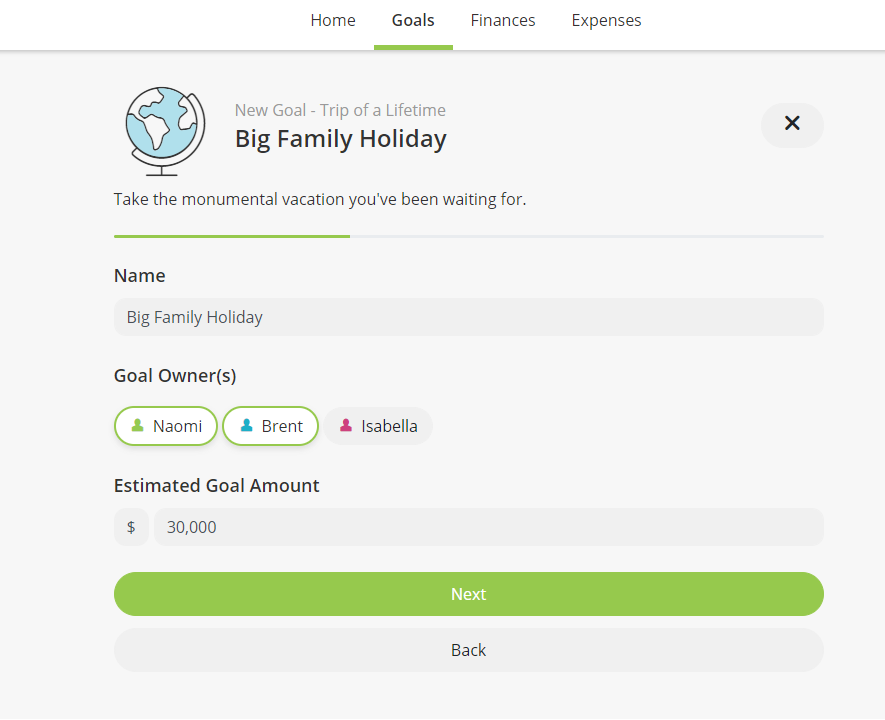 Click Next.
An event is automatically created and this can be dragged along the slider to the age your client would like this event to take place. NOTE the age is of the primary client.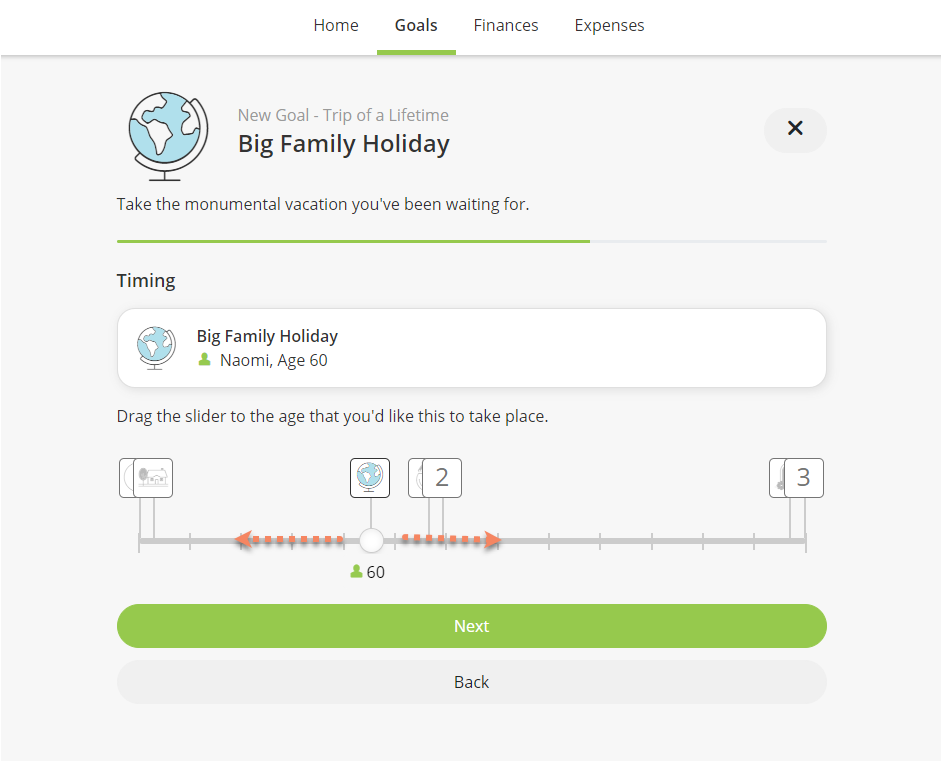 Click Next. Your clients can select the priority of the Goal by dragging the slider.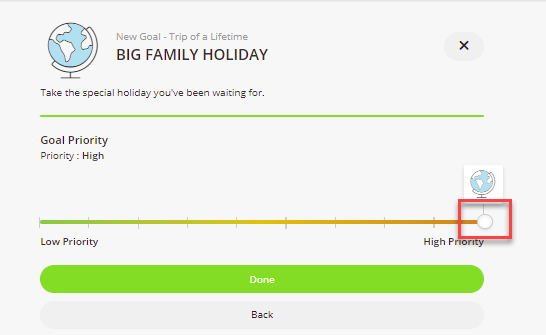 Click Done. Your clients will see a visual summary of the Goal they have added.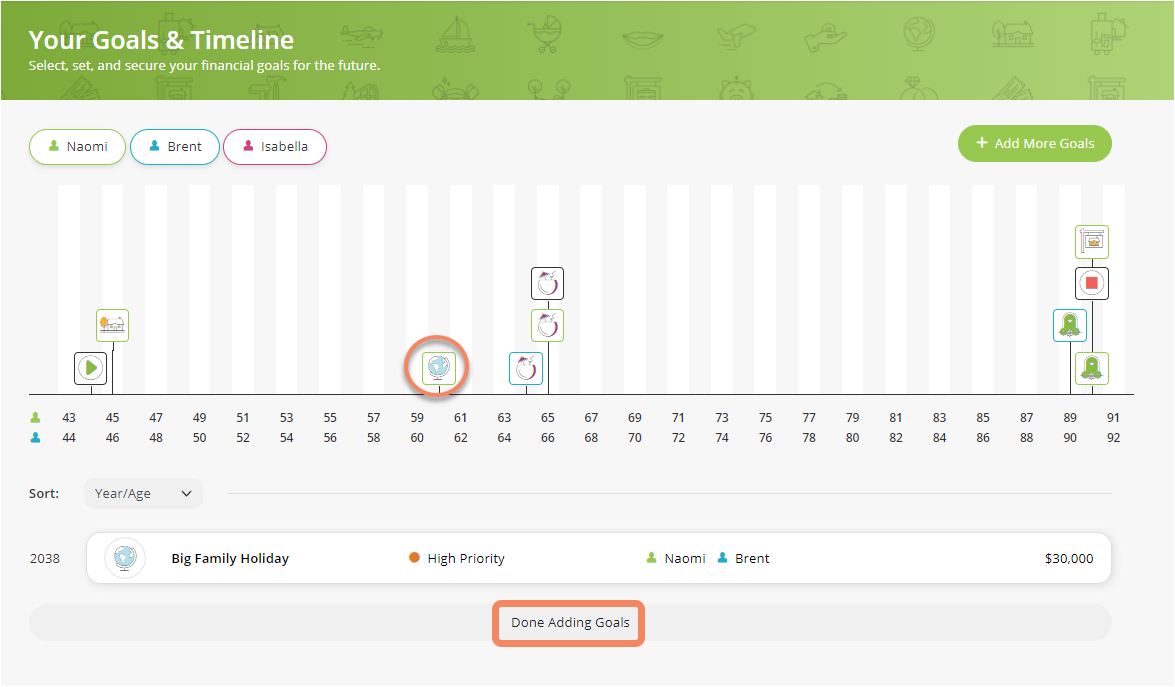 Further Goals can be added or your clients can select Done Adding Goals to move on to adding Finances and Expenses.
Your client will see the progress of their personalized journey through ClientGo.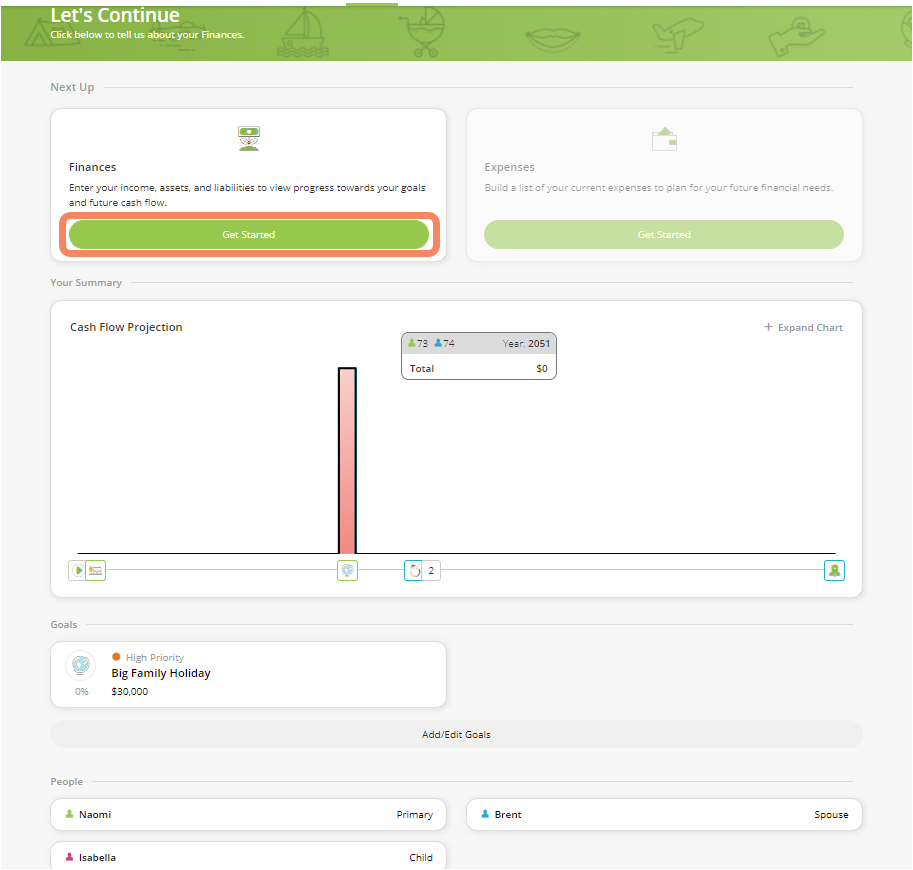 Your client will find adding new items, editing or deleting existing items in any section very intuitive. They will be prompted to select Done, Add another or delete.
A summary of the items entered in each section is displayed and when your client is happy they have entered all of their Finances for example, they select Done Adding Finances.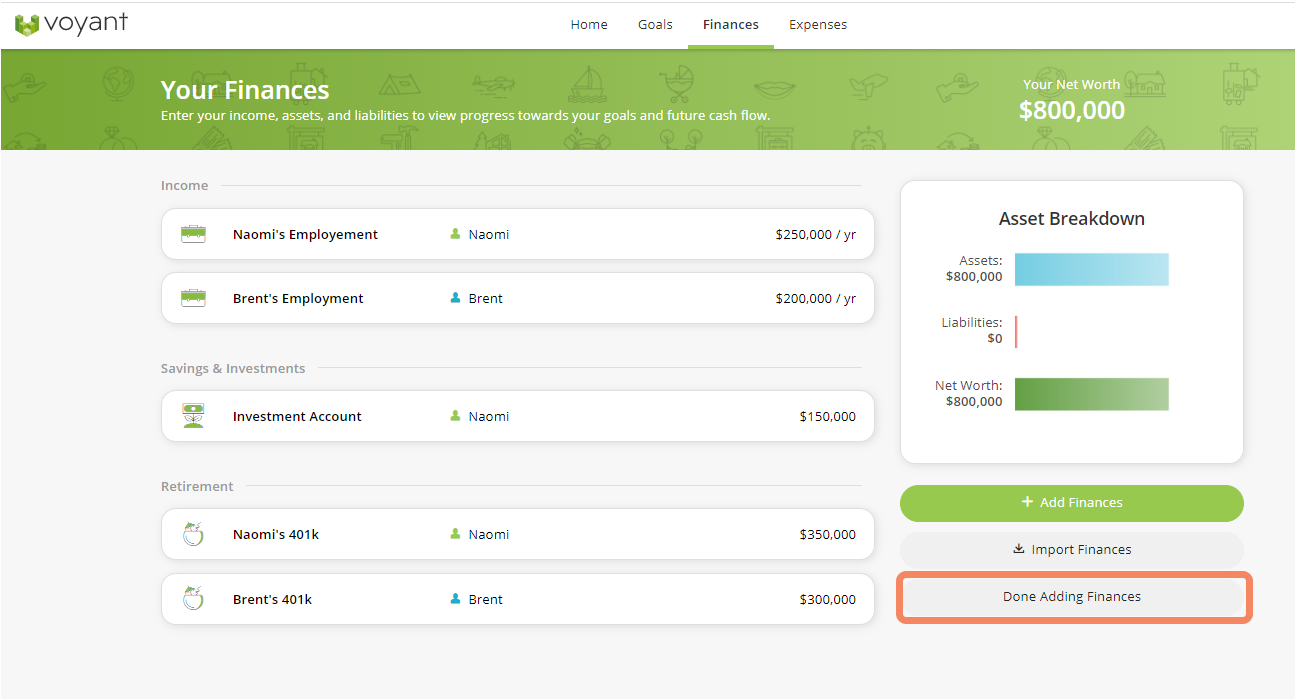 Their progress is displayed.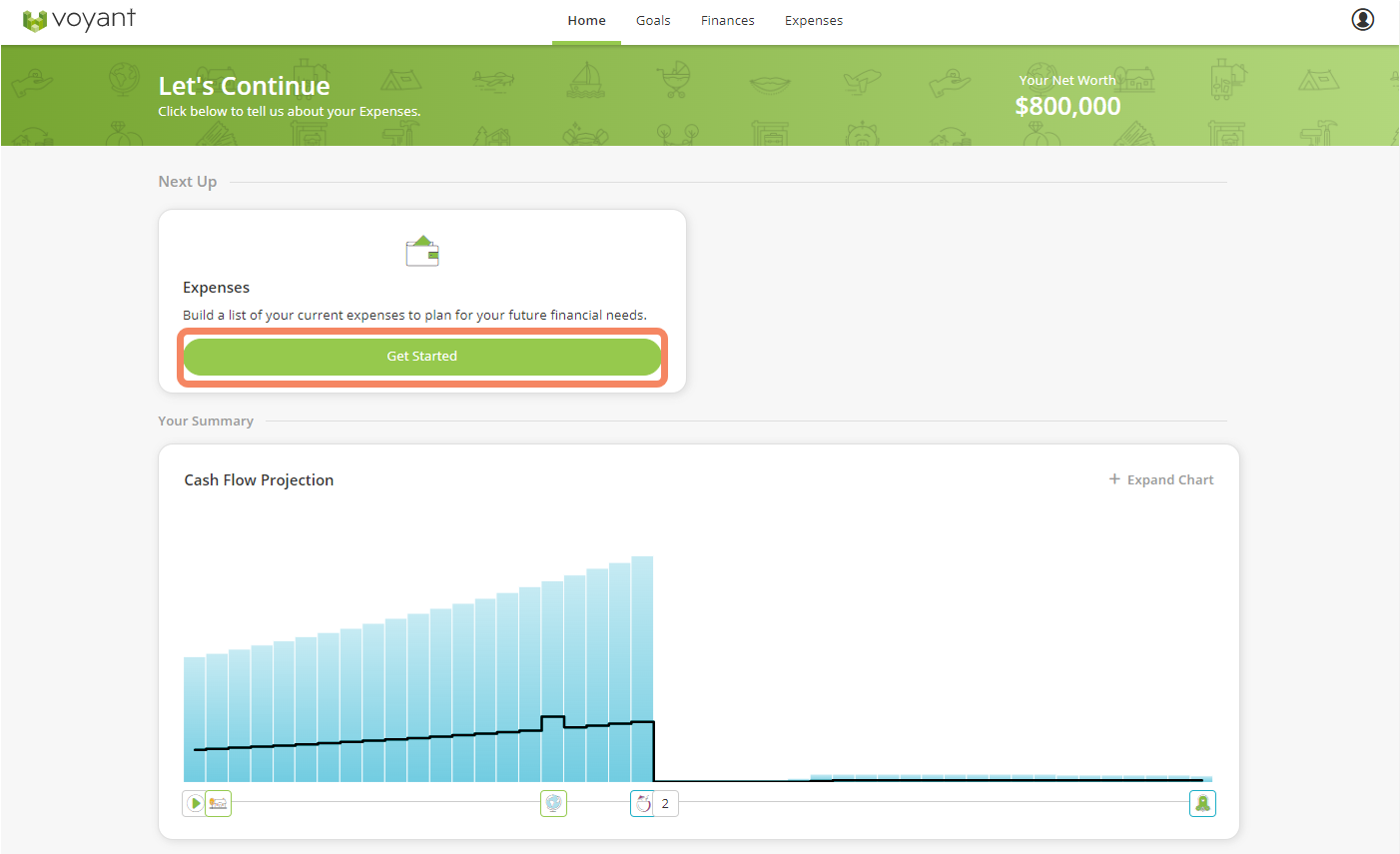 The completed sections move below the chart and at any time your client can Add or Edit these sections by selecting the Add/Edit button.
The section still to be completed remains at the top of the page.
ClientGo saves automatically each time client enters a Goal, Finance or Expense item. Once your client has completed this journey, ClientGo prompts them to let you know.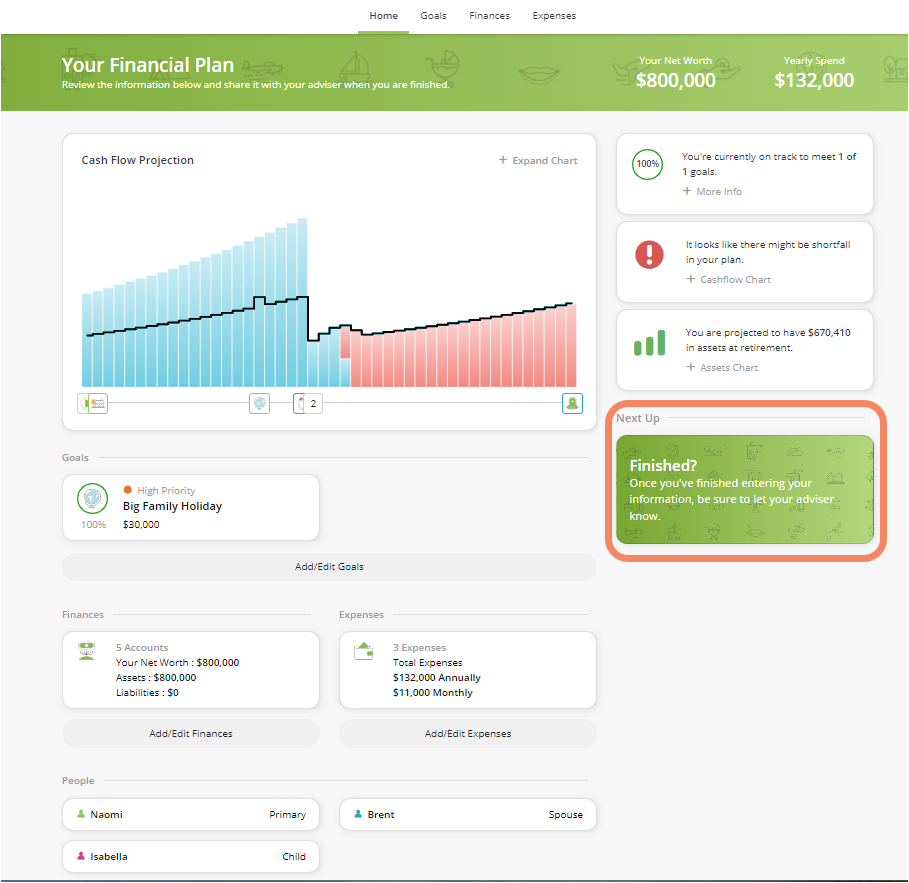 To log out, your client should select the head and shoulders icon in the top right of the page and select log out.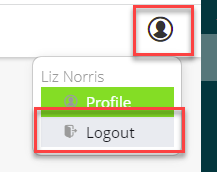 After the client has completed their details
Once your client has completed this journey you will see the client in your Client Record just as you would see any client record you had input into Voyant AdviserGo.

The details they have entered will be displayed in the usual Dashboard, Chart formats which you are used to in AdviserGo.
To view the client plan, click on the name. Before you are able to view and edit you will be prompted to Turn on Client Lock or view as Read Only.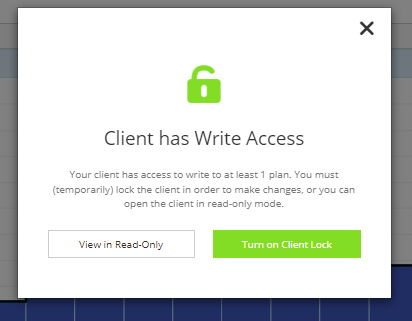 Choose Read Only if you do not wish to edit the plan. You can still navigate around the plan but the save buttons are disabled, preventing you making any changes.
It is most likely that you will wish to edit the plan, in this case, select Turn On Client Lock. While this is enabled and you are editing the plan, your client cannot make any changes. If your client did log in to ClientGo, they will see the message Plan Under Review.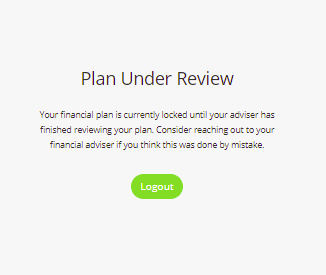 This is the familiar view you will see when you open the plan. The Base Plan is built from the details your clients added in ClientGo.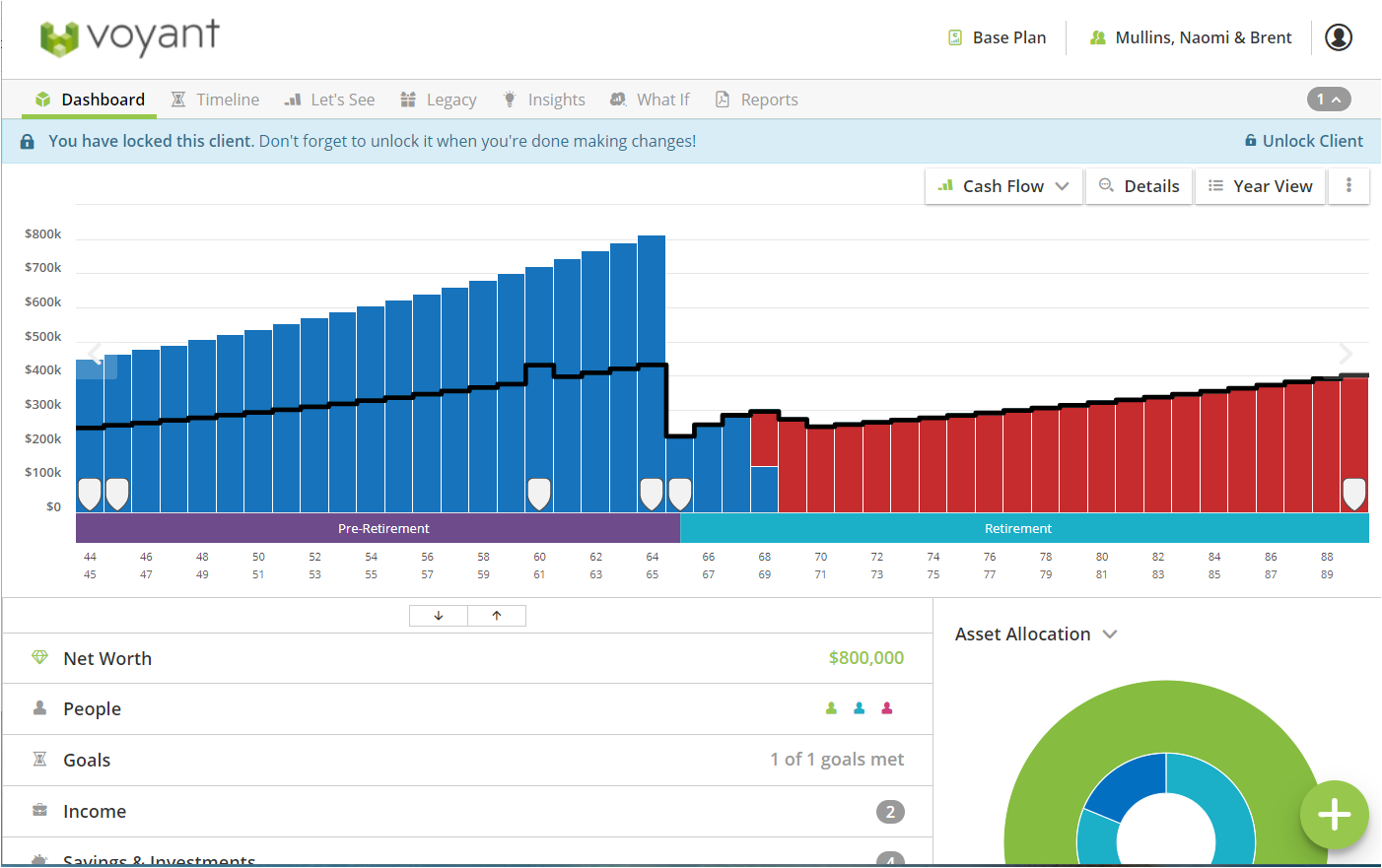 You can add, edit, delete items as with any plan in AdviserGo.
Note the two messages at the top of the Dashboard page. The top one, in the blue banner, acts as a reminder to unlock the plan once you have finished editing and before you come out of the plans and return to the client record page.

If the plan remains locked your client is not able to log back into ClientGo. Additionally, other users in your subscription who have access to your client plans e.g. those with All Client Access will have Read Only access.
The second message prompts you to Manage Access.

To prevent your client updating the Base Plan details after you have worked on the plan, we recommend their Write access is revoked.

When your clients log back in the Read Only banner will appear at the top of their ClientGo page.

You can create a What If Plan, in the usual way, and then allow your client access to this plan. They can review the details and amend if necessary.
For example - What if we saved all our surplus income. This is the view of the Cashflow chart in the What if.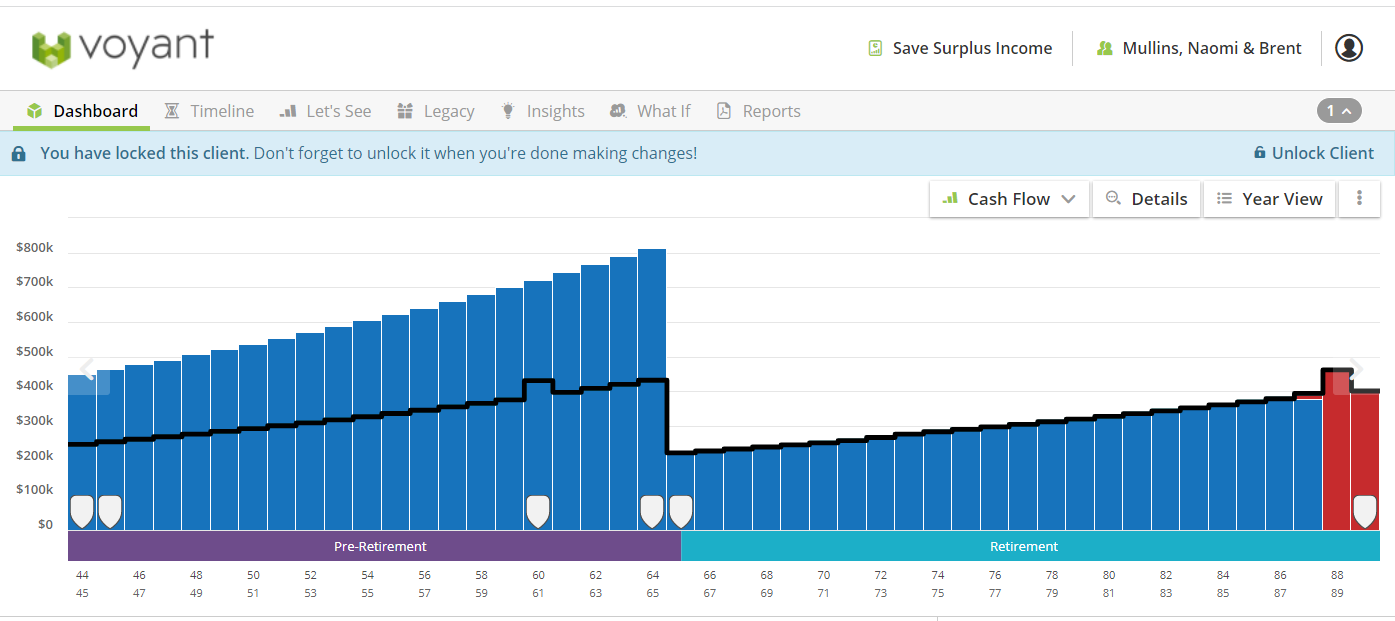 Select the client name and Manage Access.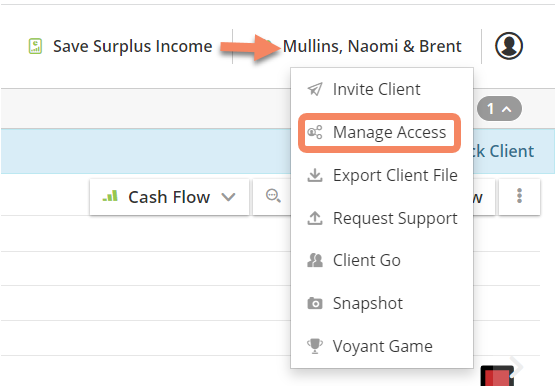 Switch off Assign Plan Automatically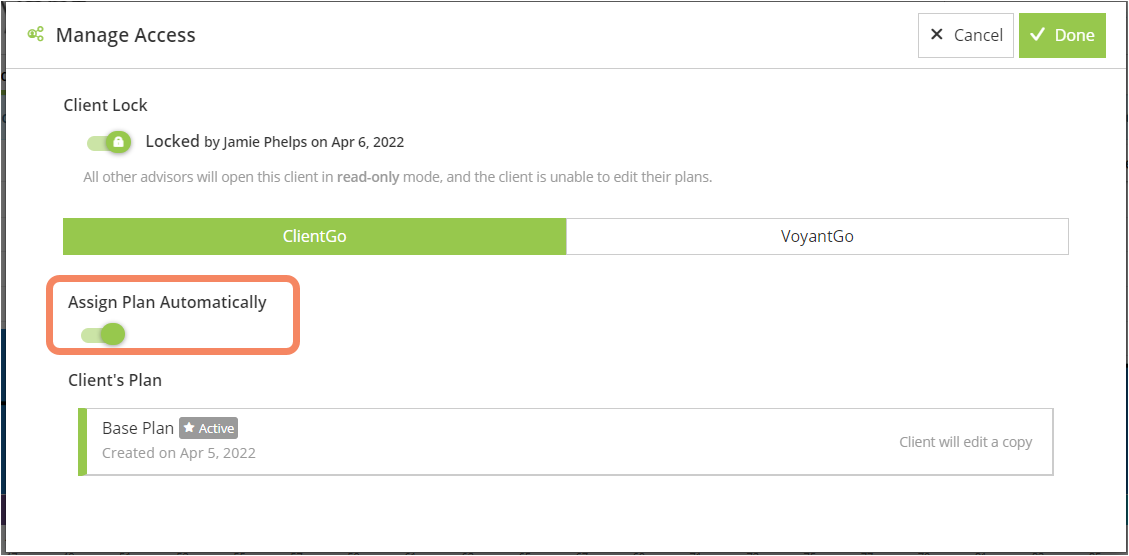 Select the What if. Then click on Done in the top right corner.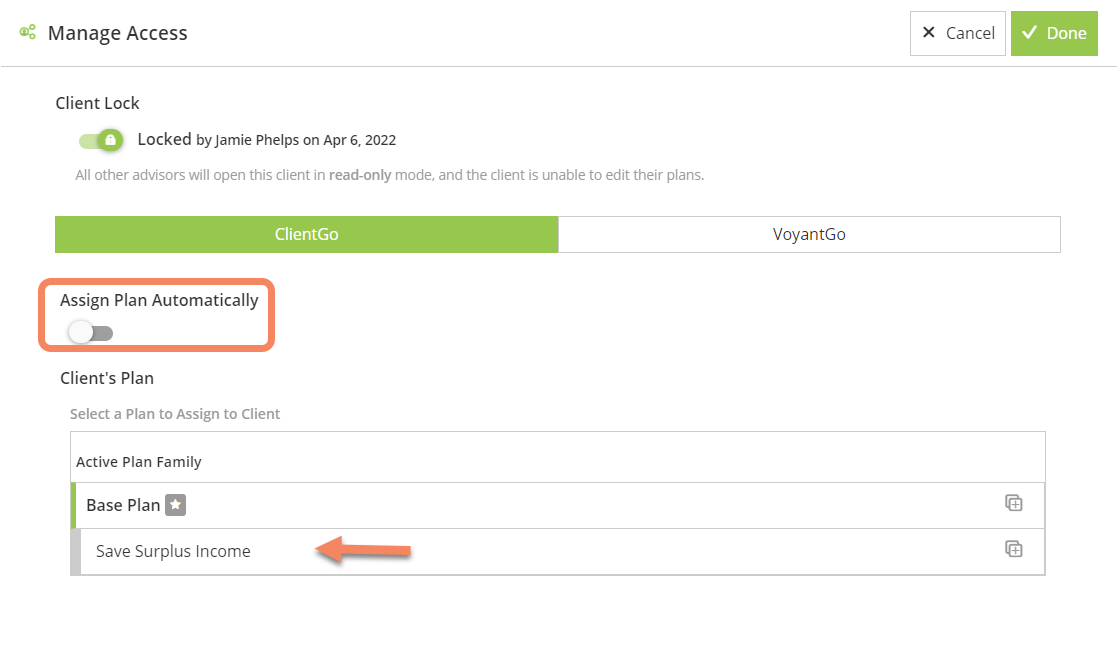 Remember to unlock the client plan.

When your client logs back into ClientGo they will see the What If plan you created and will be able to edit.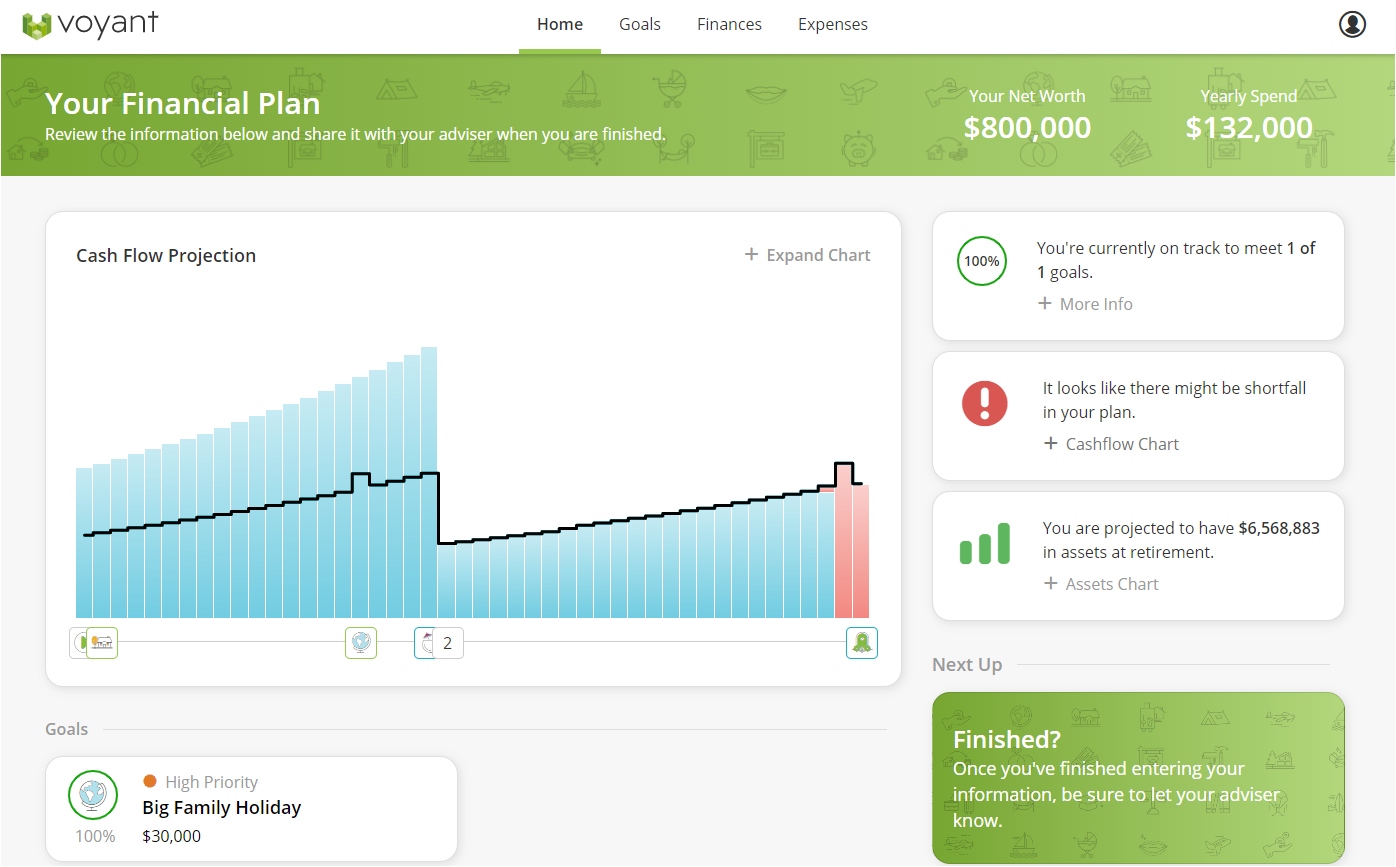 When your client logs in to ClientGo, this creates a Client Copy of the What if. You navigate to that in the usual way.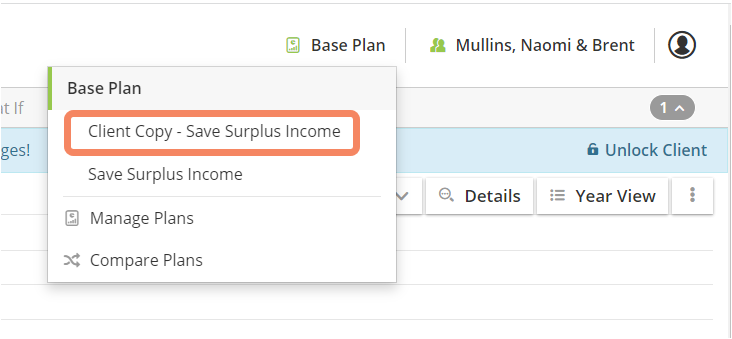 Clients with existing Voyant plans
ClientGo is a great review tool as you can invite your client to easily update, for example, their cash balances and anything else you don't look after for them and ask them to review their goals, add any new ones before you sit down with them.
This separate article explains how to invite clients with existing plans to update their plan information. How to Invite a client to update their plan using ClientGo the invitation process differs from onboarding a new client.