ClientGo is our new goal-centric, client-facing platform which can be used for onboarding new clients into the Voyant software and also as a review tool for existing clients. It is an interactive and collaborative tool that personalizes the planning process.
If you want to onboard a new client i.e. one who doesn't have an existing Voyant plan, this article explains what to do ClientGo - Onboarding new clients
ClientGo is a great review tool as you can invite your client to easily update, for example, their cash balances and anything else you don't look after for them and ask them to review their Goals and add any new ones before you sit down with them.
Before inviting a client with an existing Voyant plan so they can update their details, we recommend the existing plan is updated and promoted, without making any changes to the current values. This preserves the existing plan. Your client makes changes to the updated plan. This article explains How to update the start date of a plan.
How to invite an existing client.
From your Home screen go to the client plan and select the 3 dots

Here select 'Invite Client'

Enter the client's email address and select the product you would like them to have access to "ClientGo" Then click next.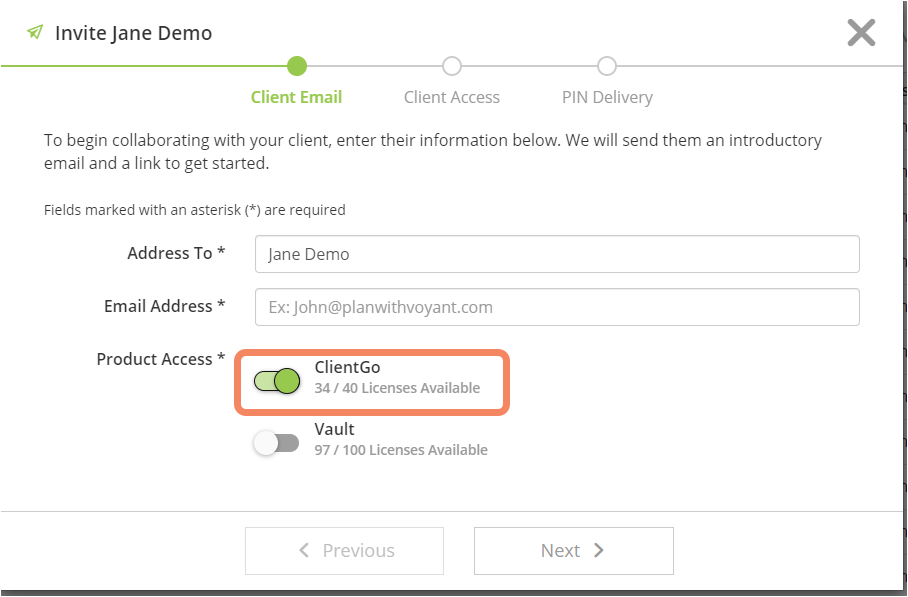 You will then see the option to select the plan the client will have the ability to review. The software will automatically assign the client's base plan if you leave the "Assign Plan Automatically" toggle on.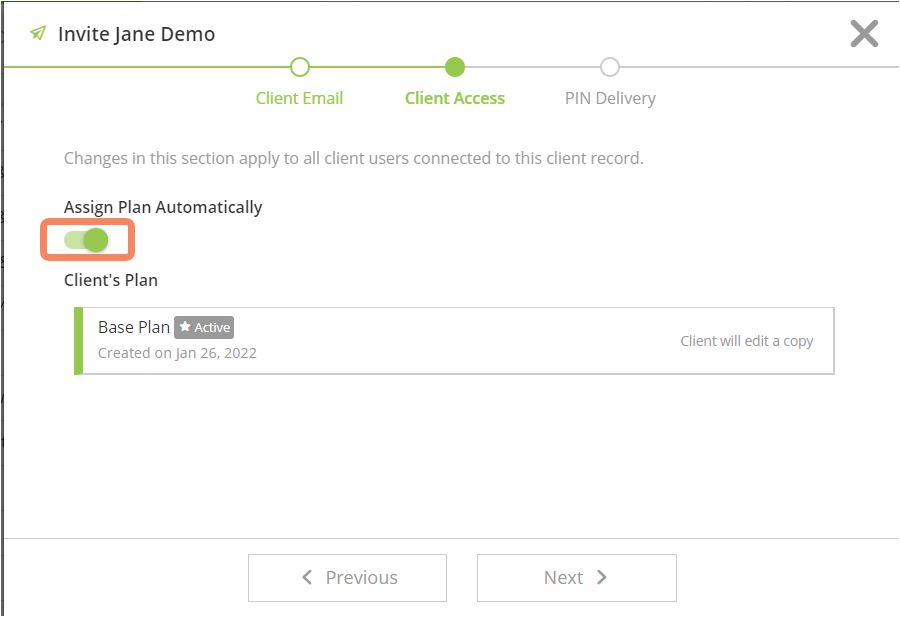 If you turn the toggle off you will have the option to select one of the client's what if scenarios. Once a plan is selected, click next.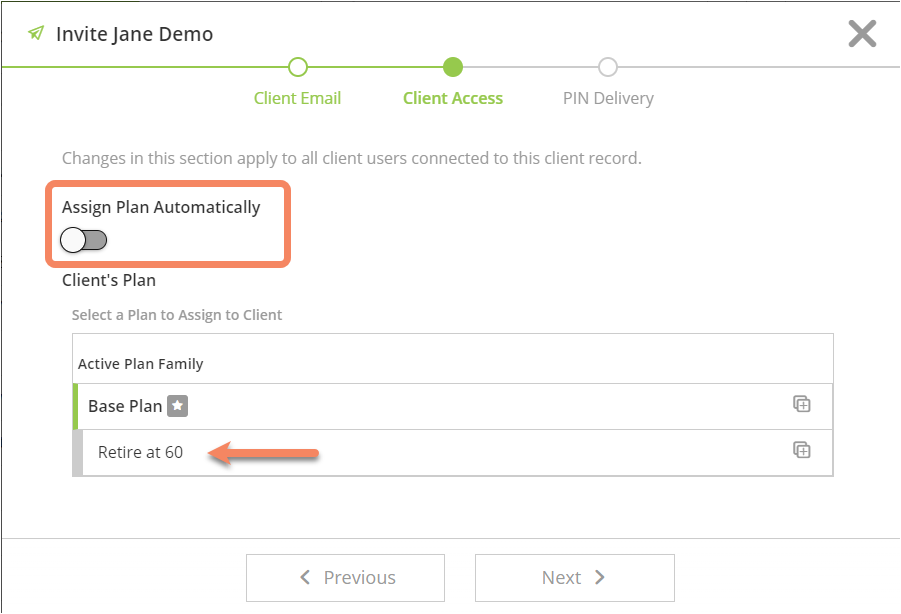 You will then be asked to enter your client's mobile phone number beginning with their country code (e.g. for the US (+1) for the UK (+44). This will allow the software to text them a pin to register. Once entered click "done" to send your client their invitation to ClientGo.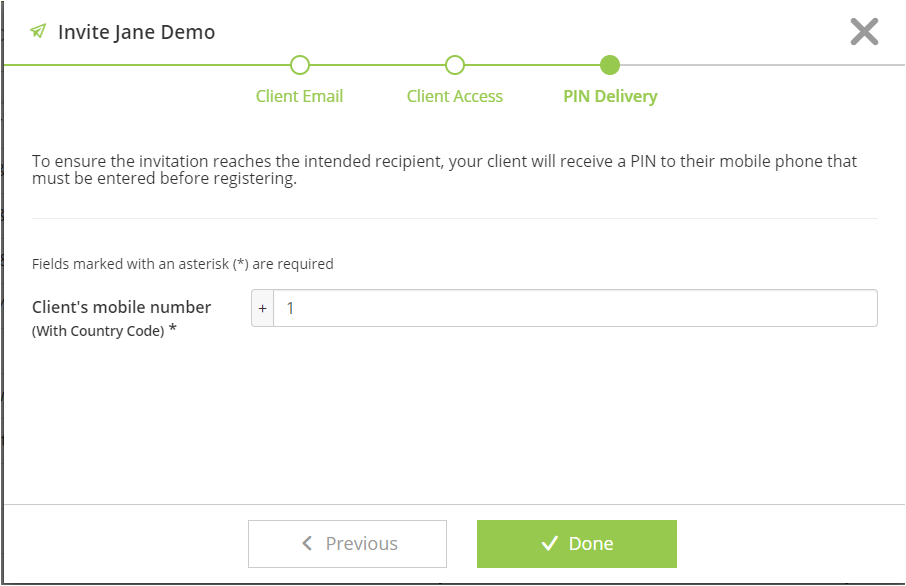 Note: The client will only receive this PIN code after they click on the email link and press continue.
What happens next?
Your client will receive an email to accept your invitation and set up an account.
Your client will need to click on 'Accept the Invitation'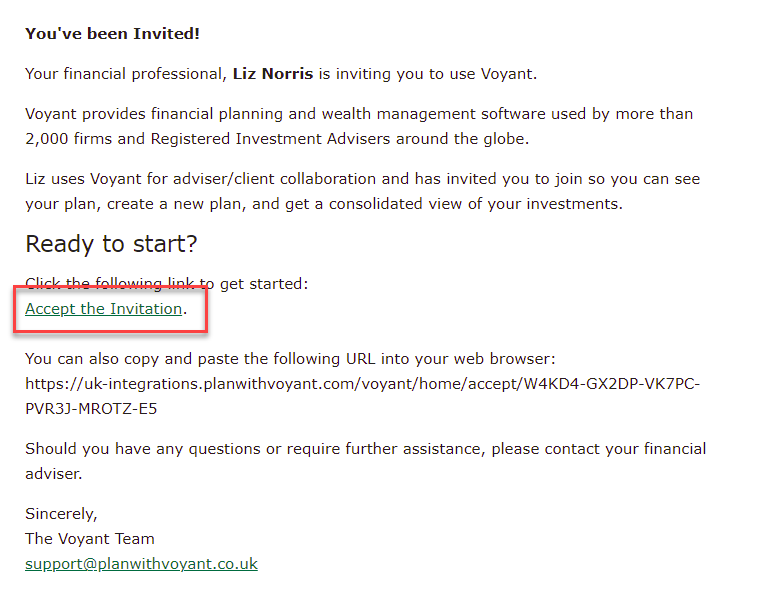 Where you have chosen to send the PIN via text, your client will then be asked to confirm the mobile number by clicking Send.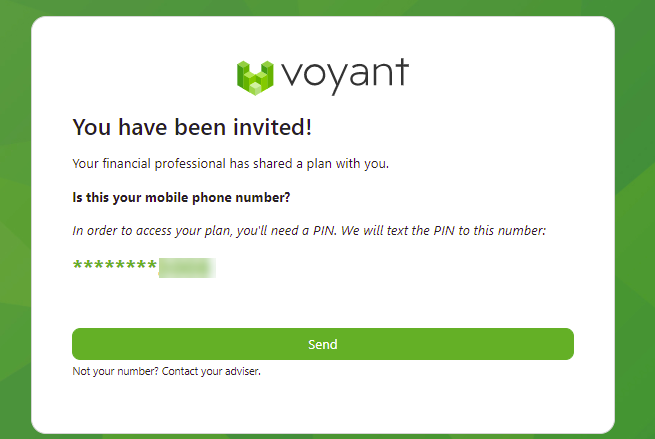 The PIN code will be sent to their mobile and they would enter the PIN here and click on Submit.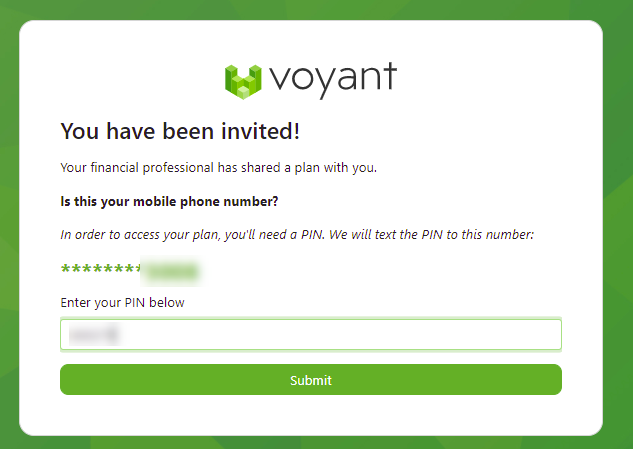 They will then need to complete the following details to create their Voyant account. They will always need to use this Username and Password to log in.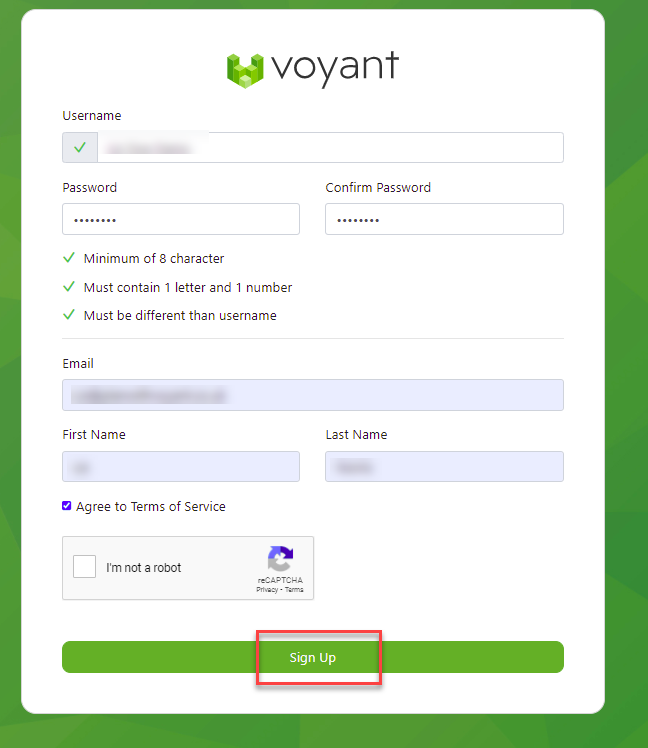 Once they have clicked on Sign Up, they will see this Registration Complete page.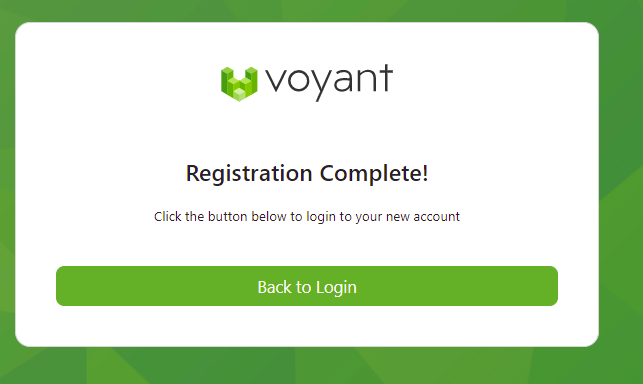 Before being able to log in they need to first activate your account. They will receive an email asking them to activate their account.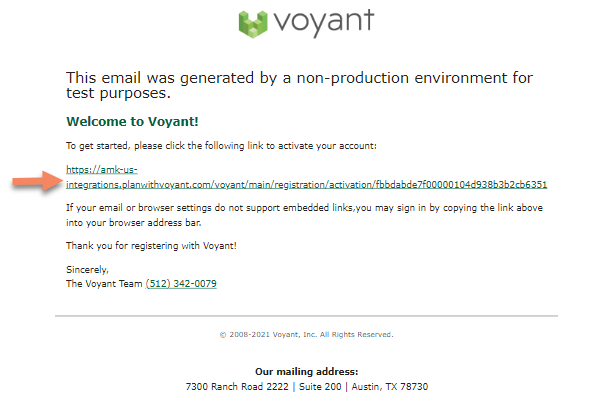 Once this is done they can log in by clicking on Back to Login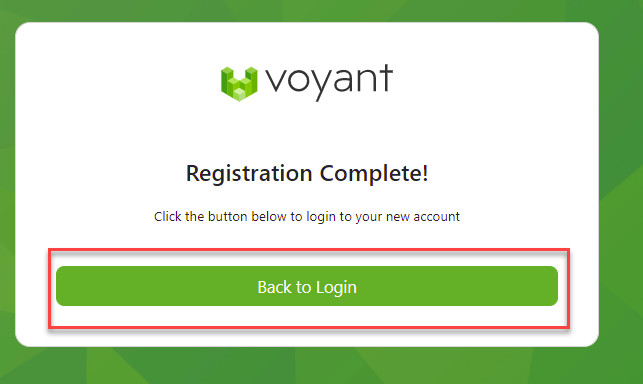 Your existing clients will not be prompted to 'Tell us about your family' or enter the Goals, Finances and Expenses from scratch.
The view they would see would be similar to the screenshot below and they can Add/Edit any details.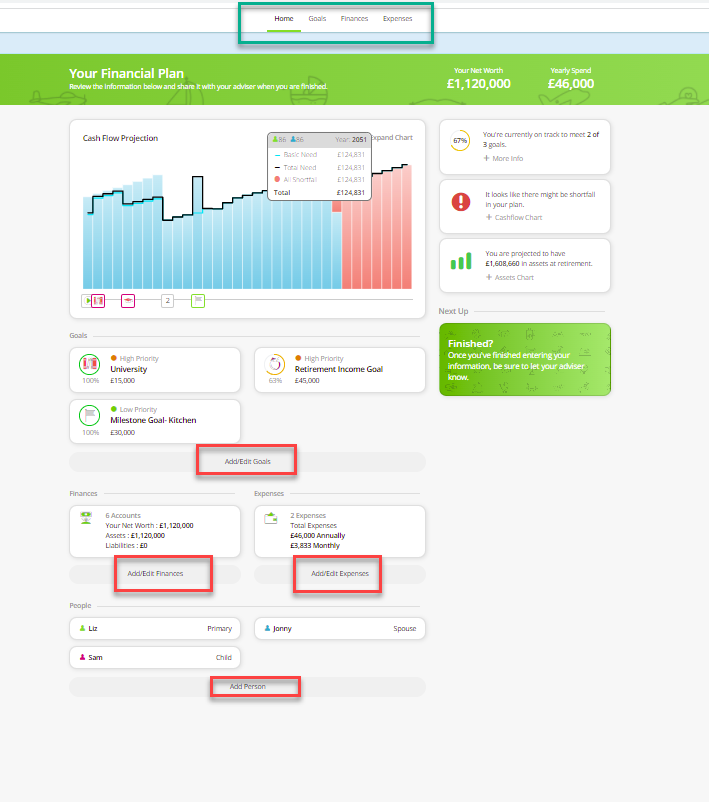 The new/updated details are saved automatically and your client will see the effect of the changes they have made.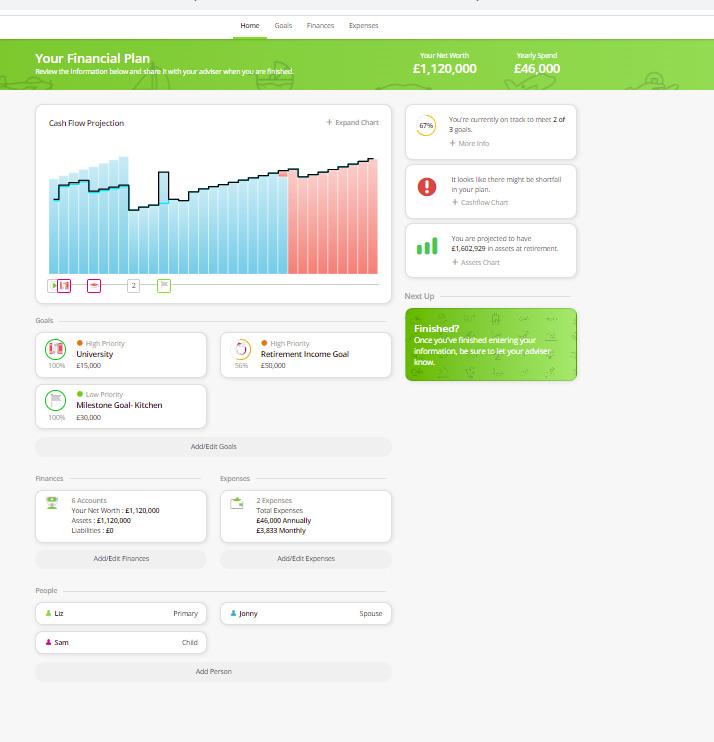 Once they have completed the update, you will see the client in your Client Record just as you would see any client record you had input into Voyant AdviserGo. The date modified will reflect the date your clients made their latest changes.

To view the client plan, click on the name. Before you are able to view and edit you will be prompted to Turn on Client Lock or view as Read Only.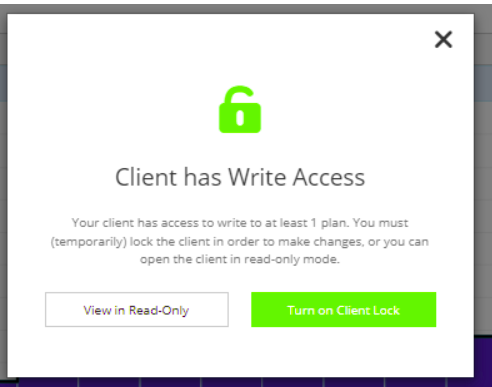 Choose Read Only if you do not wish to edit the plan. You can still navigate around the plan but the save buttons are disabled, preventing you making any changes.
It is most likely that you will wish to edit the plan, in this case, select Turn On Client Lock. Whilst this is enabled and whilst you are editing the plan, your client cannot make any changes. If your client did log in to ClientGo, they will see the message Plan Under Review.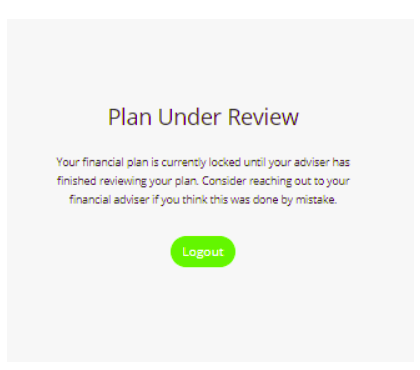 To view the updates your client has made, select the Manage Plans tab and you will see a plan entitled 'Client Copy-..' select this plan.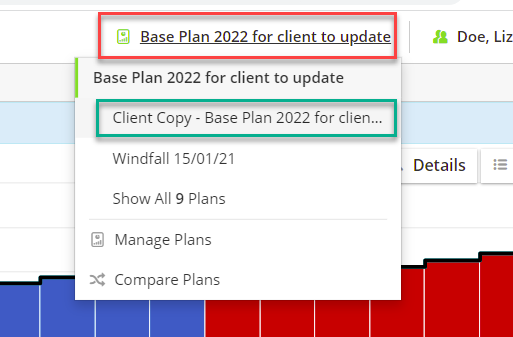 Note the two messages at the top of the Dashboard page. The top one, in the blue banner, acts as a reminder to unlock the plan once you have finished editing and before you come out of the plans and return to the client record page.

If the plan remains locked your client is not able to log back into ClientGo. Additionally, other users in your subscription who have access to your client plans e.g. those with All Client Access will have Read-Only access.
The second message reminds you that this is the version created by the client and recommends creating a copy to make your own modifications.

You can add, edit, and delete items in this plan as with any plan in AdviserGo.
By default, if your client was to log back into ClientGo they see their Client Copy.
To see which plan they have access to click on the plan name in the top right of the screen and Manage Access.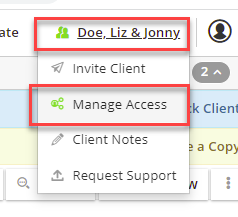 You can see that by default, this is the plan they will view in ClientGo. They can edit this plan.

As detailed earlier you can choose which plan details you wish them to see by moving the 'Assign Plan Automatically' slider to the left. There is no need to move the slider if you are happy with the selected plan. If however, you have made a copy of this plan you will need to choose the copy you want them to see e.g. Adviser updated.

If you ask your client to once again log into ClientGo, they will see the revisions and planning you made in, for example, the Adviser updated plan.
NOTE If your client makes any changes to this plan a copy is created.