AdviserGo and VoyantGo are both web-based applications that can be accessed from any computer, provided you have a Voyant user account with access to these products. To open the software, be sure to use a standard web browser with an internet connection that allows access to our website. Read more >>
Before you begin
Be sure that your computer or more specifically, your browser, meets the application's basic requirements, Read more >>
You will need a Voyant Adviser/AdviserGo user account. You may use AdviserGo when registered either as a trialist or subscriber.
AdviserGo and Voyant Adviser are packaged together, so if you subscribe to Voyant you will be granted access to both products. There is no added cost for either product. We offer a single subscription price for both products.
To sign up for a free, no obligation 30-day trial of our software, please visit the appropriate country-specific website. Read more >>
Option 1 - Visit our website and log in
To access AdviserGo:
1. Go to the country-specific website for the version of AdviserGo you plan to use.
2. Log in.

To log in, you must be registered on the selected website.
If you do not remember your user name or password, standard reminder/reset tools are available on the login page.

3. Click "Go to Voyant AdviserGo".

AdviserGo will then load into your browser, showing a list of any client records you have created to date.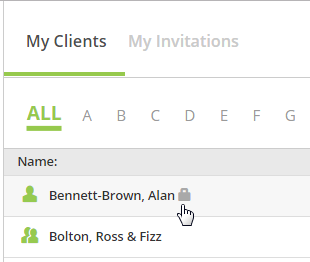 If you are entirely new to Voyant and you are ready to get started with your first client case, click the plus button (bottom-right) and select Create New Client or if your account is configured with an integration, import information from one of our integration partners.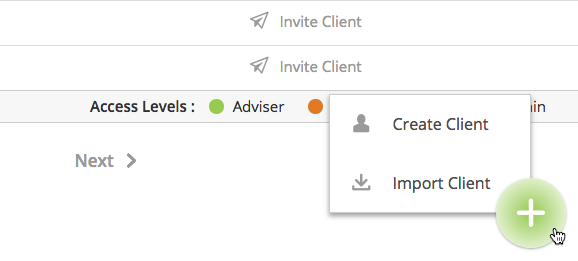 The software will prompt you to enter the most fundamental details about your client.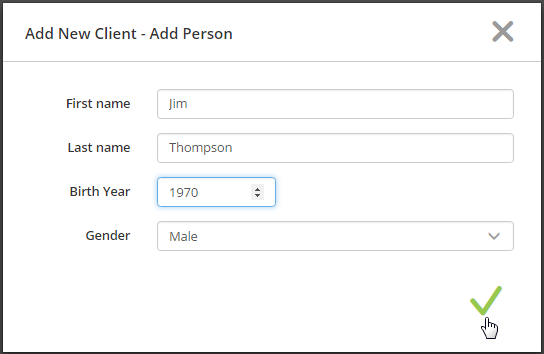 Option 2 - Open an existing client record in AdviserGo from Voyant Adviser
If you are working in Voyant Adviser and would like to view an existing case in AdviserGo:
1. Open Voyant Adviser and go to the Open Client Record dialogue.
This dialogue is first displayed, showing all your client records, after you log into Voyant.
If you are already viewing a client case in Voyant Adviser, the dialogue can be opened by clicking the double-arrow, top-left.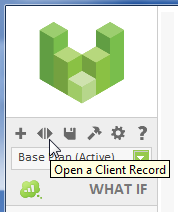 2. Find the name of the client and single click on it to select but not open the client's record.
3. Click the AdviserGo button at the bottom of the dialogue. The selected client case will then be opened in Voyant Adviser, provided you are working online.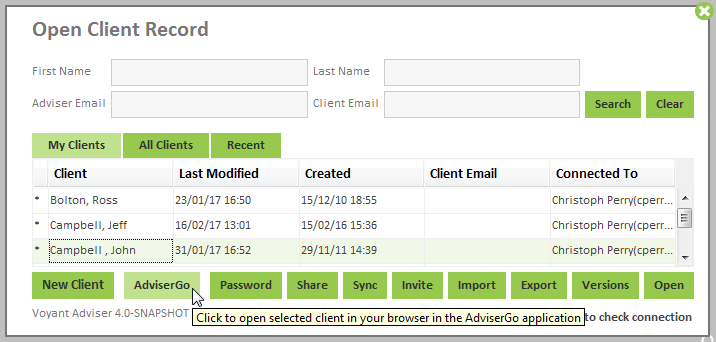 Further Reading
AdviserGo and VoyantGo Quick Start Guide