If your firm subscribes to Voyant's optional rebranding (white labeling service), you have the option to add any number of model portfolios to your semi-bespoke version of the software.
To add model portfolios to your firm's rebrand:
1. Request the file you will need from support@planwithvoyant.com
2. Be certain to format this file correctly
3. Send this file to Voyant support, requesting to have the model portfolios therein added to your rebrand.
Our support team can take it from there. Then going forward, simply let us know if any changes or additions need to be made to these portfolios by sending us an updated portfolio file.
Things to know about the formatting of this file.
This file is only an example. Our staff will need a spreadsheet with one or more of your model portfolios defined therein.
- Each portfolio will need to have a unique name. (example below)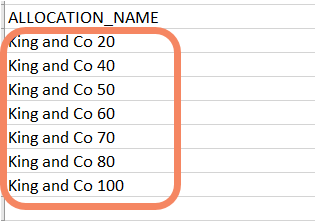 The percentages allocated to the assets in each portfolio must total to a 100% allocation across the asset classes that it uses. (values used in this document should be in decimal format) (e.g. 0.5), not a percentage format (e.g. 50%).

- The asset types in this file would need to match the names of those in your firm's own custom market assumptions. If your firm currently uses the Voyant Defaults rather than custom assumptions the model portfolios could also be based on the asset classes used in Voyant's standard market assumptions (those that come packed with the software), provided that your firm uses them.
Tip: To view the asset classes used in your firm's market assumptions (the asset classes that would be referenced in your model portfolios), from your dashboard go to Plan Settings.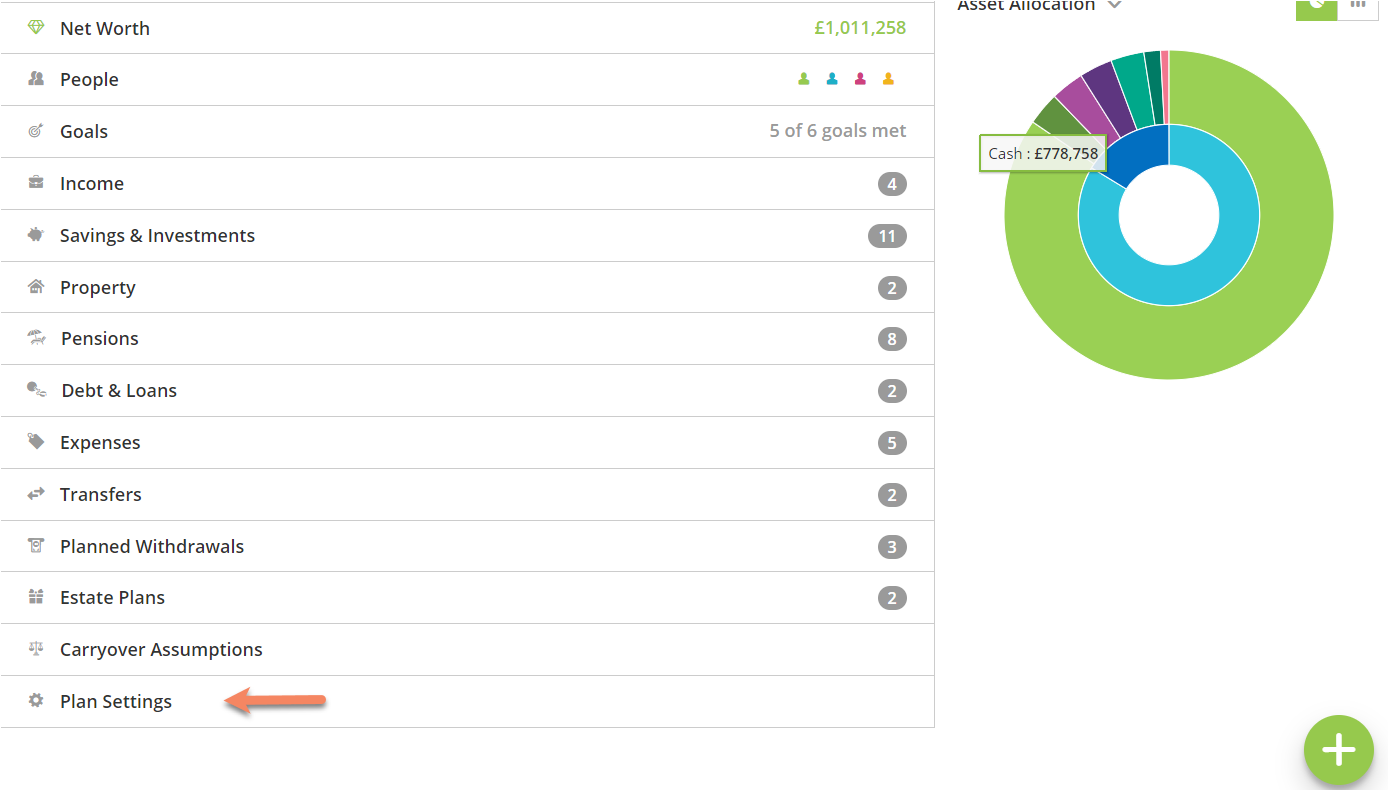 Once open, you will notice different sections on the left-hand side, click on the Market Assumptions panel.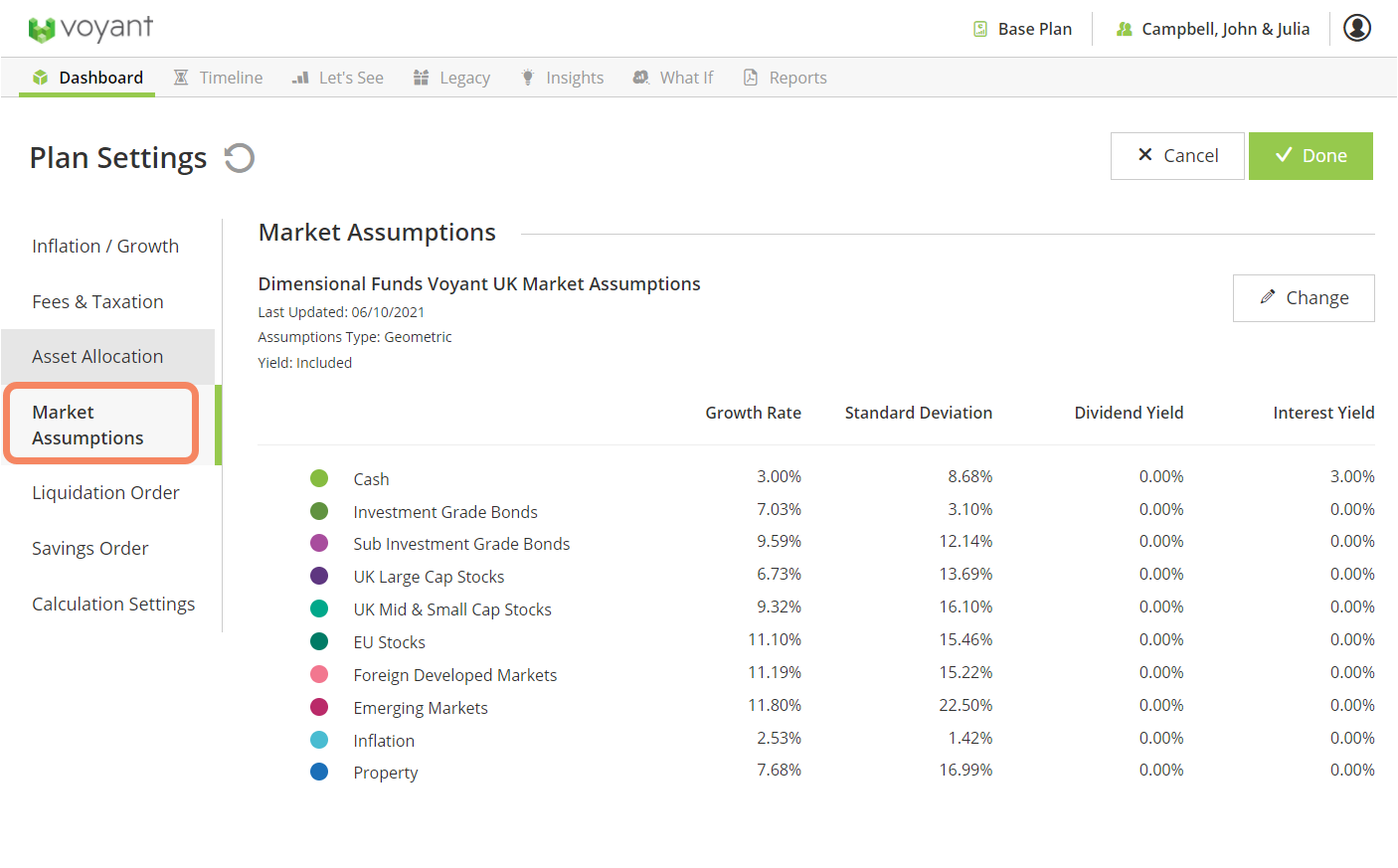 - The list of the asset classes your firm uses for it's market assumptions should match the asset classes listed in the top row in all caps of your portfolio document (e.g. INVESTMENT_GRADE_BONDS or INDEX_LINKED_GILTS).

- The amounts allocated to each asset should be in the columns to the right of portfolio name (column b, column c…).
- Importantly, the percentage allocated to each asset class must be in a decimal format (e.g. 0.5), not a percentage format (e.g. 50%).
- Be sure to save the edited file in a .csv (comma-separated value) format, which is a standard Save As format option in Excel, and send the file to Voyant support requesting that the portfolios therein be included in your firm's rebrand.
When will the updated model portfolios appear in the software?
Once you receive confirmation from our staff that your rebrand has been updated, either update the software or wait for our next general software update.
Note: Our development team works on a fixed build schedule and most updates take 4-6 weeks to be made available once all necessary documents have been recieved.
How can I use the model portfolios and where are they found in the software?
Asset Allocation can be set as a default growth preference in Plan Settings (to the right side plan settings click the refresh icon to ensure you have the most up to date data) > then click on the Asset Allocation panel to view your customized portfolios and set a default.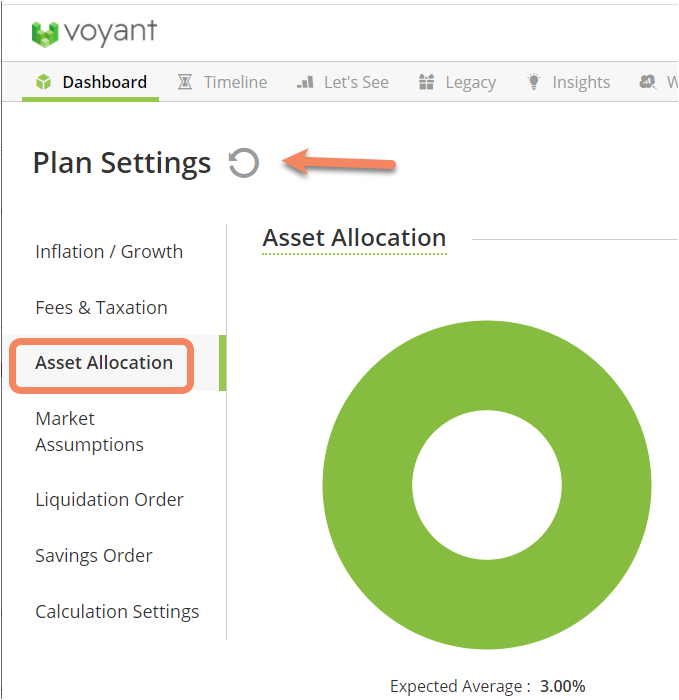 To update and customize an individual product see the example below.
On the Investments screen you could select the investment which you would like to customize.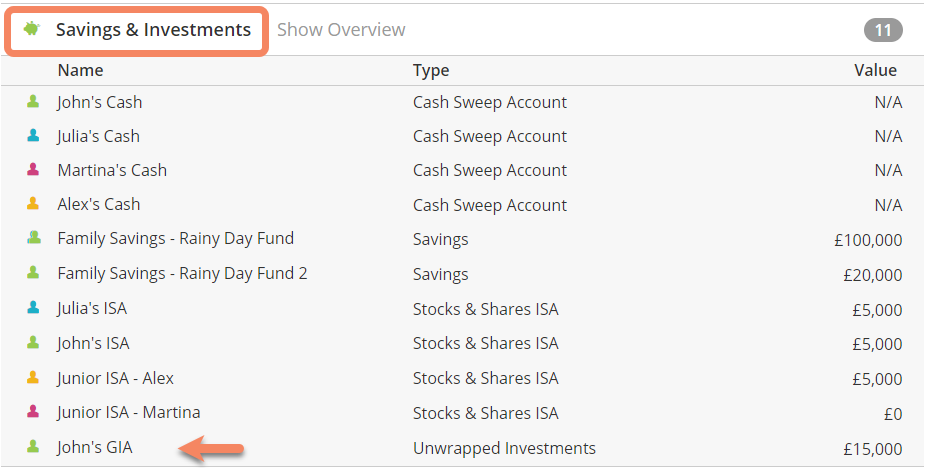 1. Go to the Growth Section. Under "Grow this account by" select "portfolio/holdings".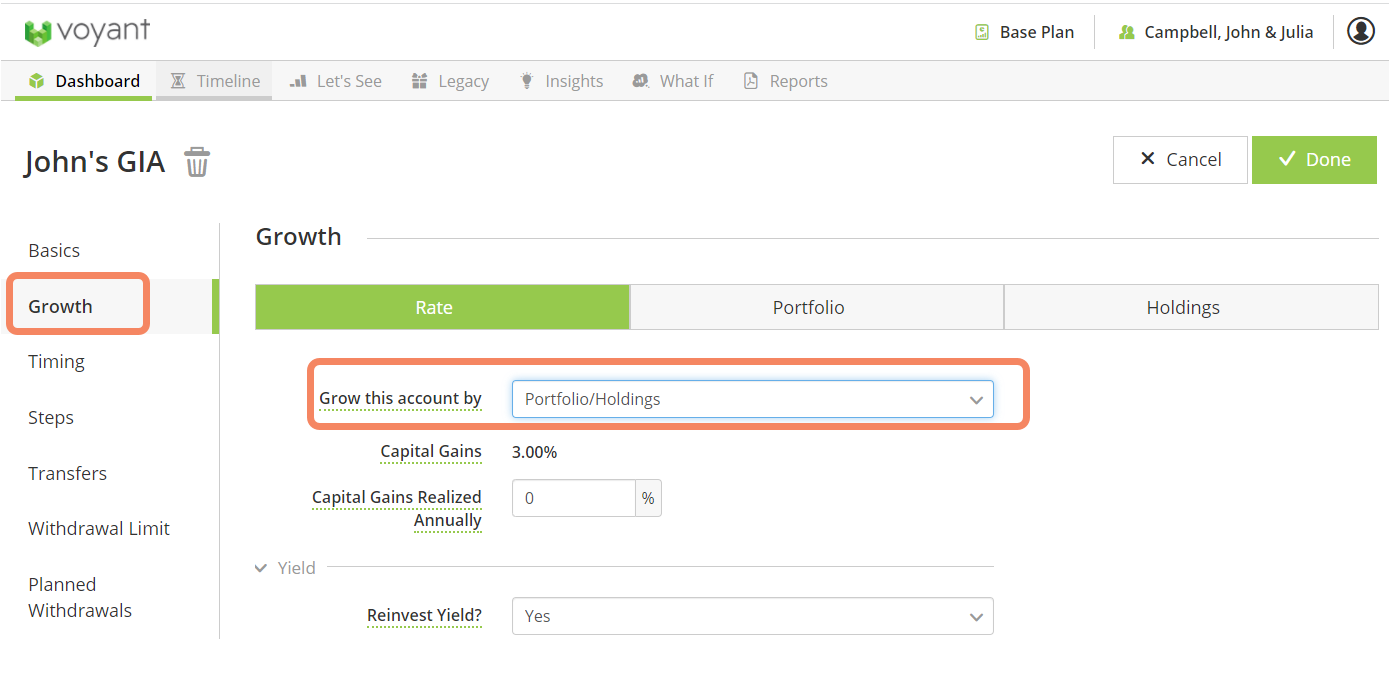 Note: This will prompt you to select a portfolio from your customized portfolio list. Once you have selected the portfolio click "Done" to save.
Market Assumptions and Portfolio files Formatting Guide - Video