Q. What is the significance of present or future value when entering a final salary pension?
A. Providers will give you the estimated pension in one of two ways;
1) They will estimate what the value of the pension is today and tell you the escalation that will be applied from now until their retirement date this is present value in Voyant and whatever escalation you have set "in deferment"

will determine the pension at retirement age
or
2) They will tell you the value of the pot when it is in payment at the members retirement age, in this case that would be future value. Any escalation entered "in deferment" would be ignored because you have told the software the pension value at the members retirement age.
If when you add the pension to the software the pension is not showing the value you would expect then you would be wise to check you have entered the retirement age correctly, in the example below the scheme would pay out at age 55. Something to bear in mind is that in Voyant the clients retirement age as set on the timeline will determine when the final salary benefit will start paying out.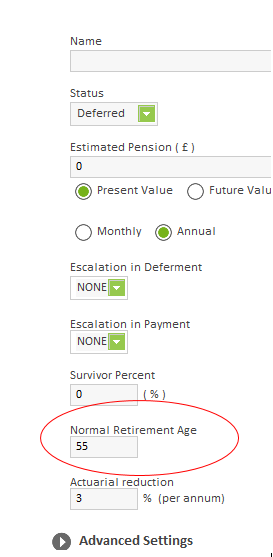 If in this example your client is retiring at age 55 it should pay out as expected but say your client was going to take this pot at age 55 and continue working then you will need an event in the timeline to link the start point of this pension paying out to a different point in time to that of his retirement. In the example below I have created an event "final salary in payment" and I need to select this and the dot will appear next to this event.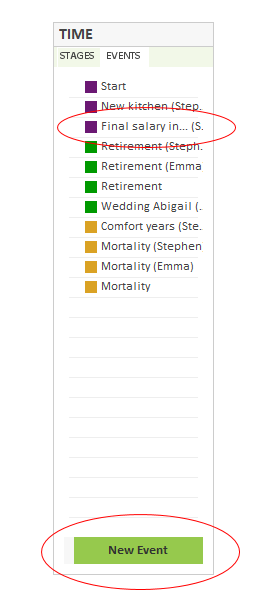 If you would like further instructions on how to enter a final salary pension please see the link below:
https://planwithvoyant.zendesk.com/hc/en-us/articles/202019953-Step-by-Step-How-to-enter-a-final-salary-pension