A recent update to the Market Assumptions within the software is now available. You will see a yellow message at the top of your screen to say the RSMR Assumptions are now Expired. You can still use these if applicable, but they will no longer be updated.


What do these changes impact?
Note these changes to the Market Assumptions will not affect the plan if you have chosen to grow all investments and pensions by Entered Growth Rate.
Market Assumptions are used when a plan is grown by Portfolio (Asset Allocation). Therefore these changes will impact investments growing by Portfolio. See here for more information: Growing an Investment or Pension using a Portfolio with Asset Allocation *AdviserGo*
The new defaults for the UK will be the Dimensional UK assumptions for new clients created in subscriptions if your firm does not have our white-labelling service where we build in your own assumptions.
If you'd instead like to enter your own Market Assumptions you can buy a Rebrand of the software to include these. See here for more information: Rebranding - About Voyant's rebranding / white labeling service
Asset Classes
The new set of Dimensional UK assumptions are a direct swap in terms of the Asset Classes (Investment Grade Bonds, Property etc.), with just the addition of one new asset class, Inflation.
Inflation represents the growth of inflation as an asset class.
How do you update the Market Assumptions
Before updating to the new Market Assumptions, Update and Promote your plan, to save the previous version. See this guide: How to update the start date of a plan
Then:
1. Click 'Change Market Assumptions' on the top yellow bar

2. The Plan Settings > Market Assumptions screen will appear showing the Dimensional assumptions. These are the assumptions now being used by your plan.

If you accidentally clicked 'Change Market Assumptions' and want to undo the change:
1. From the Dashboard, go to Plan Settings > Market Assumptions.
2. Click 'Change' on the right hand side shown as in the screen shot below
The assumptions for each selection are shown in the window that appears below.

2. Select the 'Market Assumptions' as appropriate > Click 'Apply Changes' > then click 'Done' to save the changes

Note if you do not update to the Dimensional Funds the yellow error message will still appear when you open a client record as these assumptions are no longer updated.
Check the assumed Net Growth Rates
Check Net Growth rates by going to Year View - Investments or Pensions tabs and see the Net Growth column. Click on the account name to view more information, such as Gross growth rate and Fees.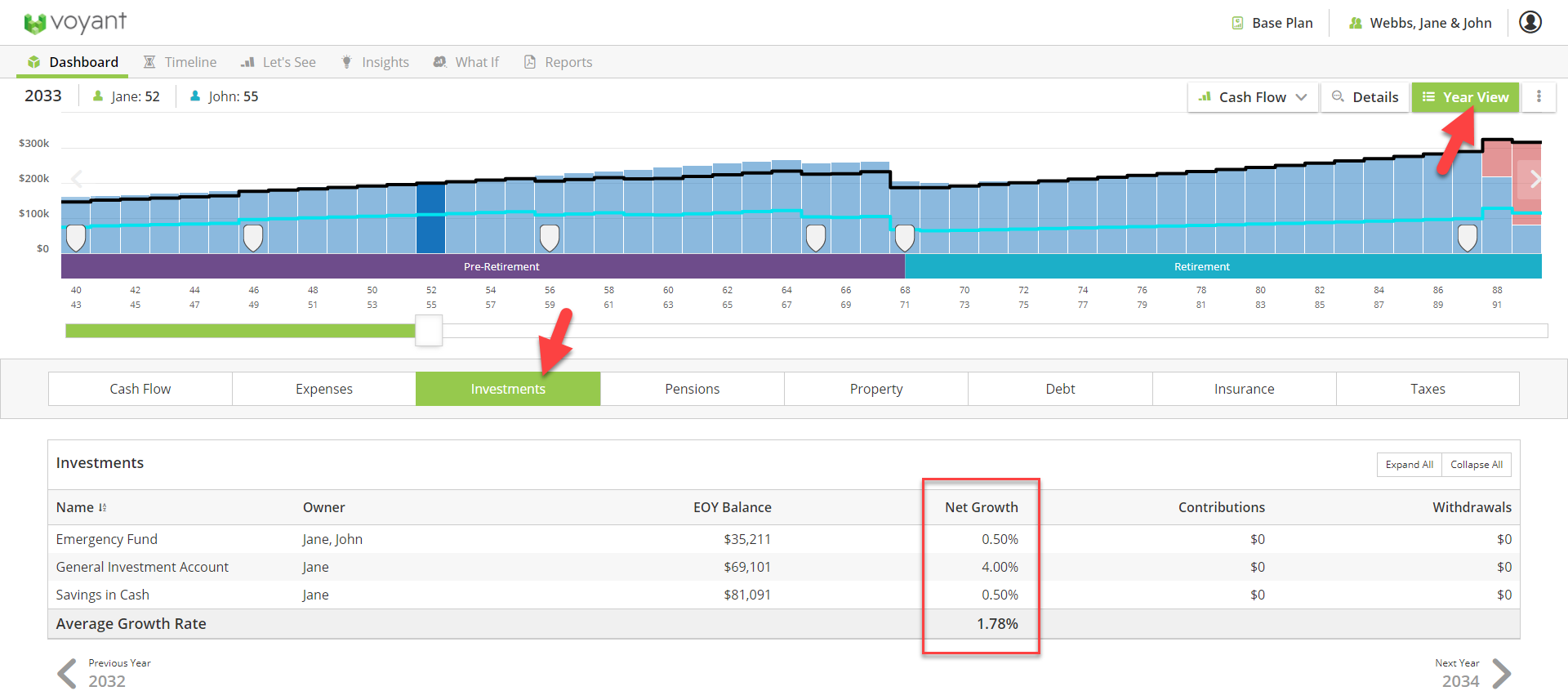 Please contact support@planwithvoyant.co.uk for any further information.