If you have added custom market assumptions to your subscription either by loading them yourselves or via a white label, you may wish to update existing client records to use the new custom market assumptions.
Before updating a client record to use the a new set of market assumptions, we recommend that you Update and Promote your plan, to save the previous version. See this guide: How to update the start date of a plan.
How to change the market assumptions
Once the plan has been updated:
1. In the Dashboard, click on Plan Settings.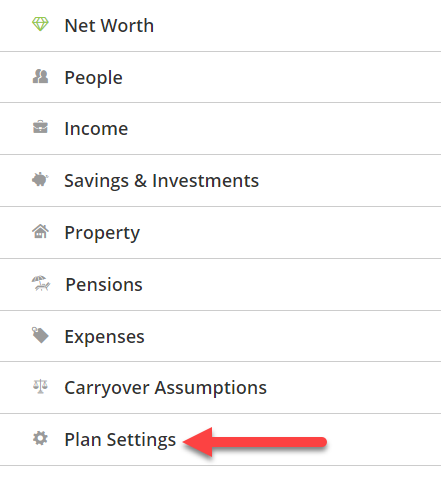 2. In Plan Settings click Market Assumptions on the left hand menu. This screen will show the market assumptions currently being used by your plan.

3. Click Change on the right hand side of the screen.

4. Select the set of market assumptions which you want to use. The assumptions for the selection are shown in the window that appears below.
Click Apply Changes > then click Done to save the changes.

Tip: If the warning message below appears stating that updating the assumptions will invalidate the asset allocations, this is likely to be because the asset class names are different and there are accounts in the plan where growth is modelling using the old market assumptions.
Click Show Details to see what will be affected, then click Continue. The resulting error messages can be fixed later, click here for instructions.

Check the default Asset Allocation
Once you have updated the Market Assumptions, click Asset Allocation on the left hand menu to check the default asset allocation. This asset allocation will be used for as the default for any investments and pensions in the client's plan which are set to grow by portfolio/holdings. This default can be overridden at an individual account level, if necessary.
You can edit the default asset allocation in this screen, if required. To do this, type the relevant percentages in the boxes next to the asset class names, then click Done.

Check the assumed Net Growth Rates
Once you've updated the market assumptions and default asset allocation, check the net growth rates used by investments and pensions in the plan by going to Let's See > Year View, clicking the Investments or Pensions tabs, then looking at the Net Growth column.

Click on the account name to view more information, such as gross growth rate, yield and fees.

Important note - Asset Allocation errors: When you update a client's plan to use a new set of assumptions you may see errors in the plan if the asset class names are different from the original assumptions. Click here to find out how to resolve these errors.