The Investment Growth Rate preference is used to set the default growth rate (capital growth) on investments, money purchases and drawdown pensions, provided that the "Use Asset Allocation" option is not selected for the account.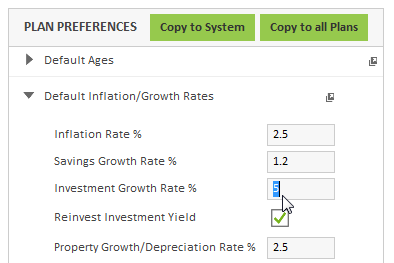 The setting in Plan Preferences, to the right side of the Preferences screen, will apply to the client case that you are presently viewing. This assumption can also be edited on a per scenario basis within the client case.
The setting in System Preferences, to the left side of the Preferences screen, is used only as an initial default in newly created client cases. System Preferences serve only as a template set of assumptions. When you create a new client case, a copy of the System Preferences will be written into your new client's Plan Preferences.
This preference is also used as the default growth rate applied to the hypothetical taxable savings account created when running the Annual Savings Need Analyser.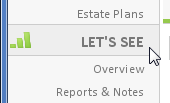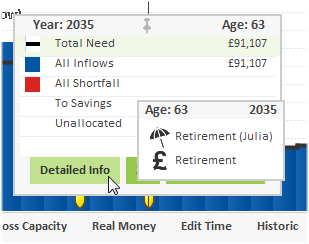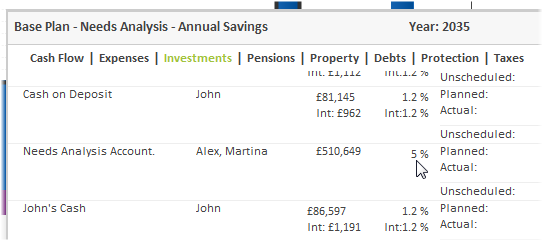 This initial default assumption can be overridden for any individual account on the Investments, Money Purchase or Drawdown Pension screens by adjusting the Growth Rate % in Advanced Settings > Growth or Growth & Yield.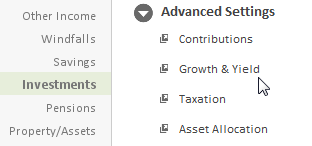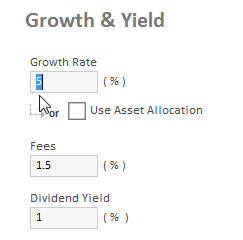 Plan Preferences vs. System Preferences
Changes to this setting on the mirror Default Inflation / Growth Rates panel in System Preferences, on the left side of the screen, will be used only going forward, as you create new client cases. System Preferences are used as a template only for new client cases. Changes to System Preferences will not retroactively affect your existing client cases.
If you want to change this preference in any existing client cases, you will need to open and edit them individually, in each case's Plan Preferences.


Related topics
System Preferences vs. Plan Preferences
Rebranding and Preferences - Options for managing preferences / default assumptions in white labelled versions of the software
Preferences - A master list of the software's default assumptions and settings