Plan Settings, Default Assumptions
It is in the Plan Settings that you can view and edit the software's default assumptions about things such as the growth rates for savings and investments, inflation rate, the future growth of earnings (National Average Earnings), and property growth rates (Property Growth/Depreciation Rate). Furthermore, the Default Tax Table Assumption determines the rate at which the tax bands increase beyond the known.
To access these settings, click Plan Settings, the bottom-most link on the Dashboard.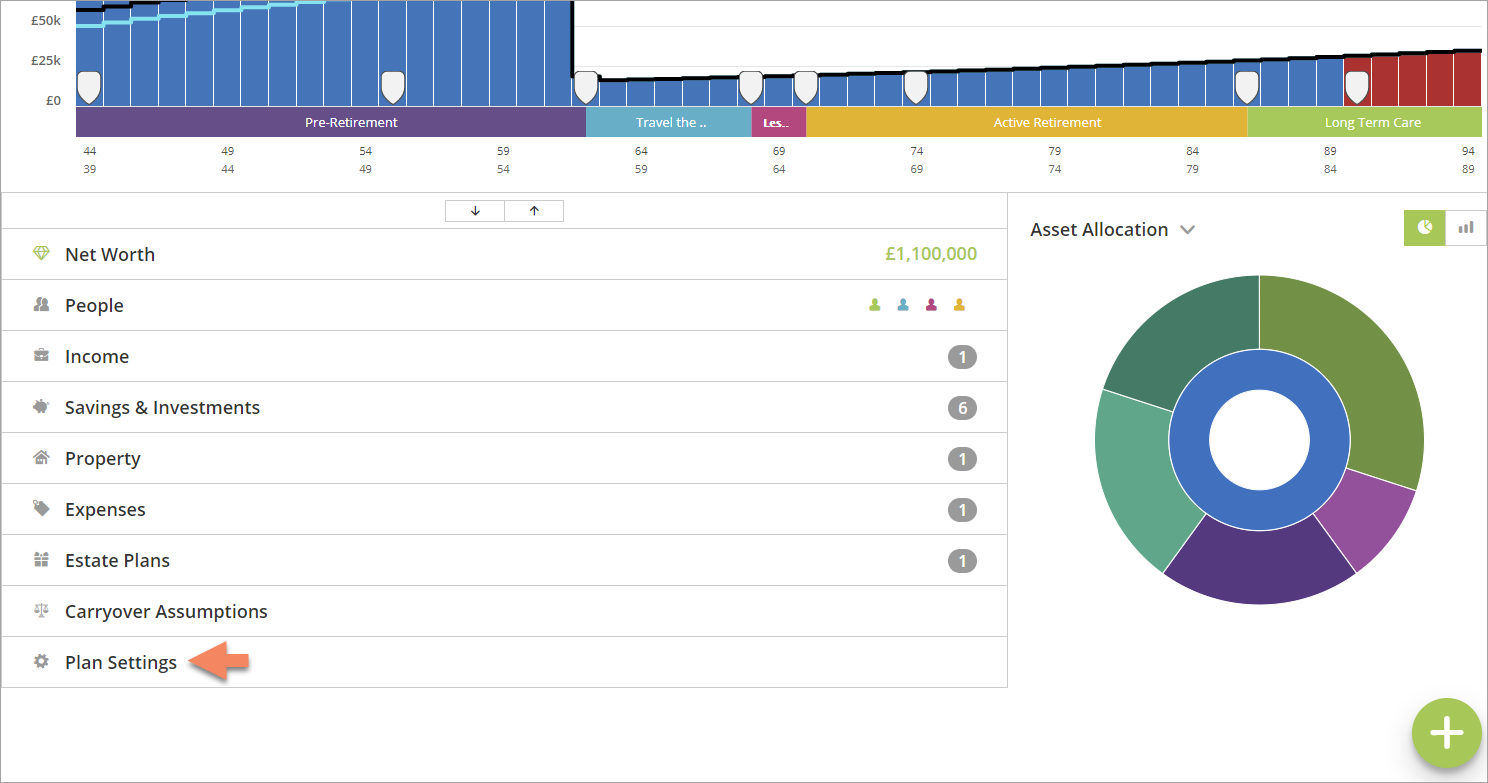 Plan Settings set the software's default assumptions
Although Plan Settings provide the defaults, many of these settings, including growth and inflation rates, can still be modified for items individually, within the plan.
Expenses, for example, are grown using a default Inflation Rate, which is taken initially from the Plan Settings.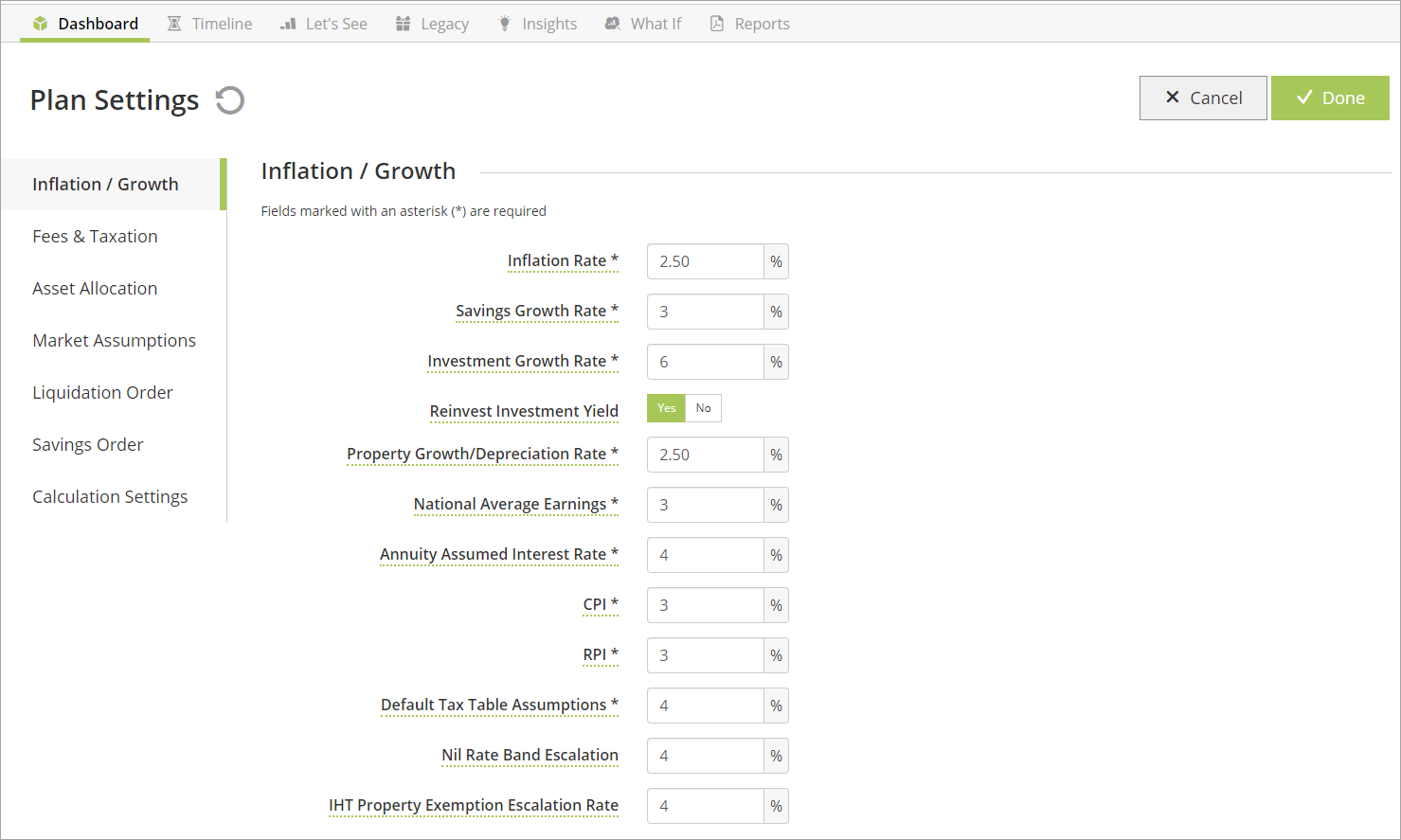 If an individual expense needs to be inflated at a rate higher or lower than this general default, then simply change this Inflation Rate setting as you enter or edit the expense. Once edited at the item level, the default inflation rate will be overwritten for that expense and will remain so, even if you were to change the overall default inflation rate for the plan.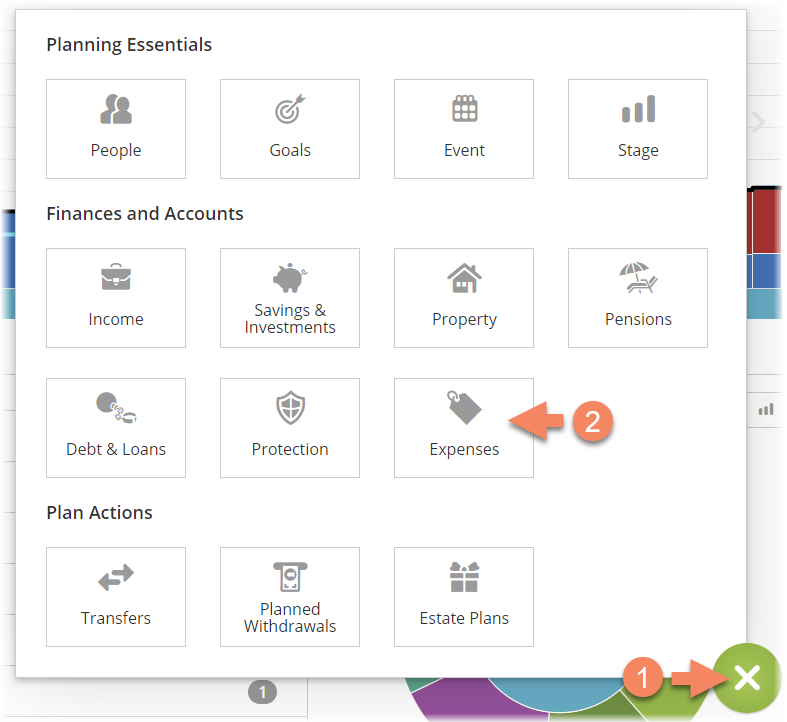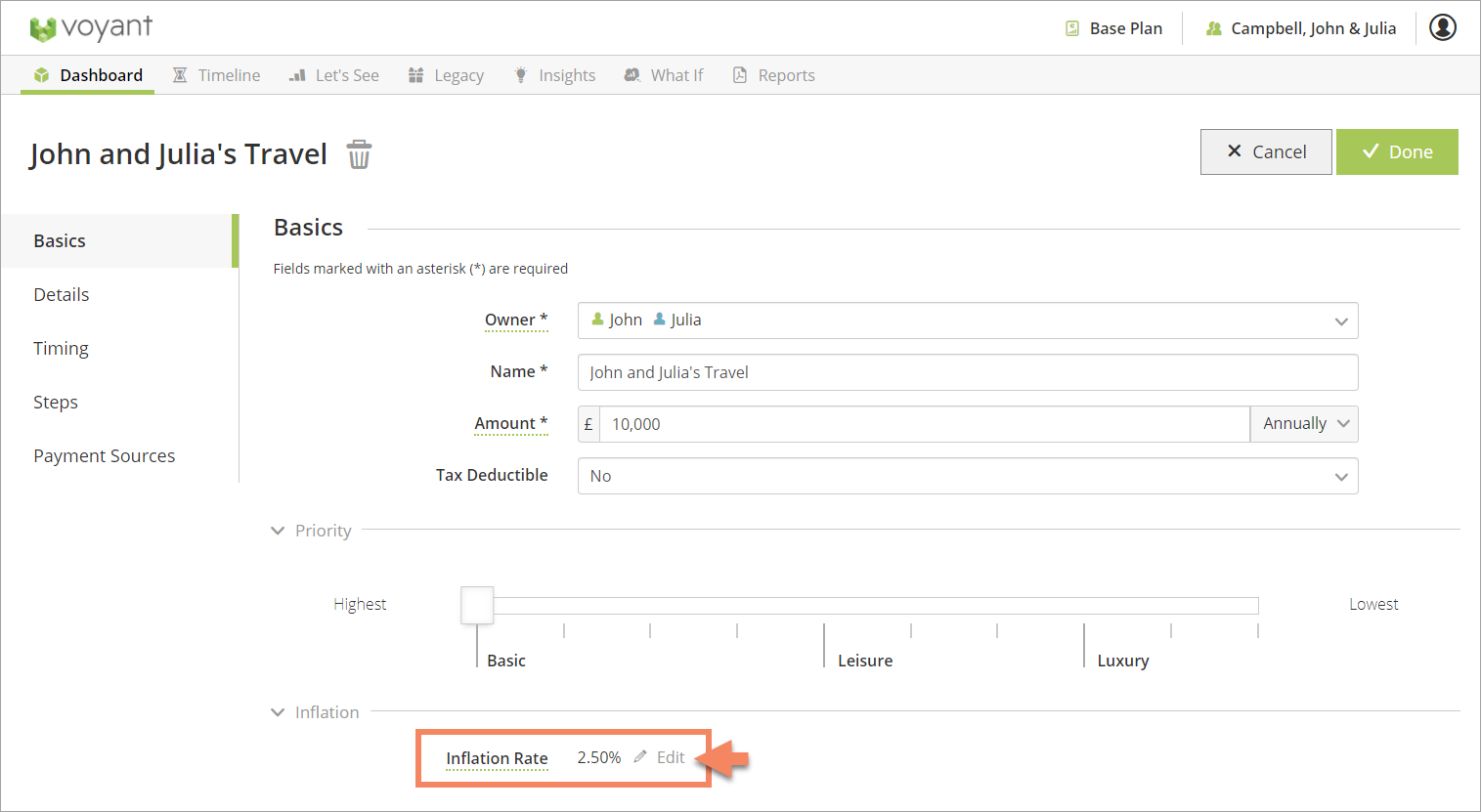 You can, however, easily revert the expense back to the default Inflation Rate, as it is set in the Plan Settings, by clicking the Use Defaults button to the right of the Inflation Rate, as shown below.

Tip - Consider your firm's Plan Settings early on, as you get started with AdviserGo
It is quite likely that some of the software's initial default assumptions will differ from the position you would choose to take. Voyant is not a data provider. In fact, other than its tax calculations and coded rules for pensions and products, the software is designed to be data agnostic. You might think of these default assumptions merely as placeholders to get you started with the software.
We encourage you and your firm to review and update these assumptions to values that you consider reasonable and justifiable. The Plan Settings are a good place to begin as you start using Voyant as these assumptions will act as the foundation for your plans.
Managing Preferences in your firm's rebrand (white label) of AdviserGo
In addition to customizing the branding in the software, such as the colors and logos to match those of their firm, customers who subscribe to our optional rebranding/white labeling service can also manage the default plan settings for all of their users through their rebrand. of the software. Rebranding gives firms their own, semi-bespoke version of AdviserGo, which Voyant will help manage as a standard part of this optional service.
Read more here or contact Voyant Support (support@planwithvoyant.com) for additional information.