Plan Settings (Plan Preferences)
Editable preferences (assumptions) are found in AdviserGo on the Dashboard screen under the heading Plan Settings.
These preferences are the same as the client-specific Plan Preferences in Voyant Adviser. They are not System Preferences, which serve as a template of default values for future client cases.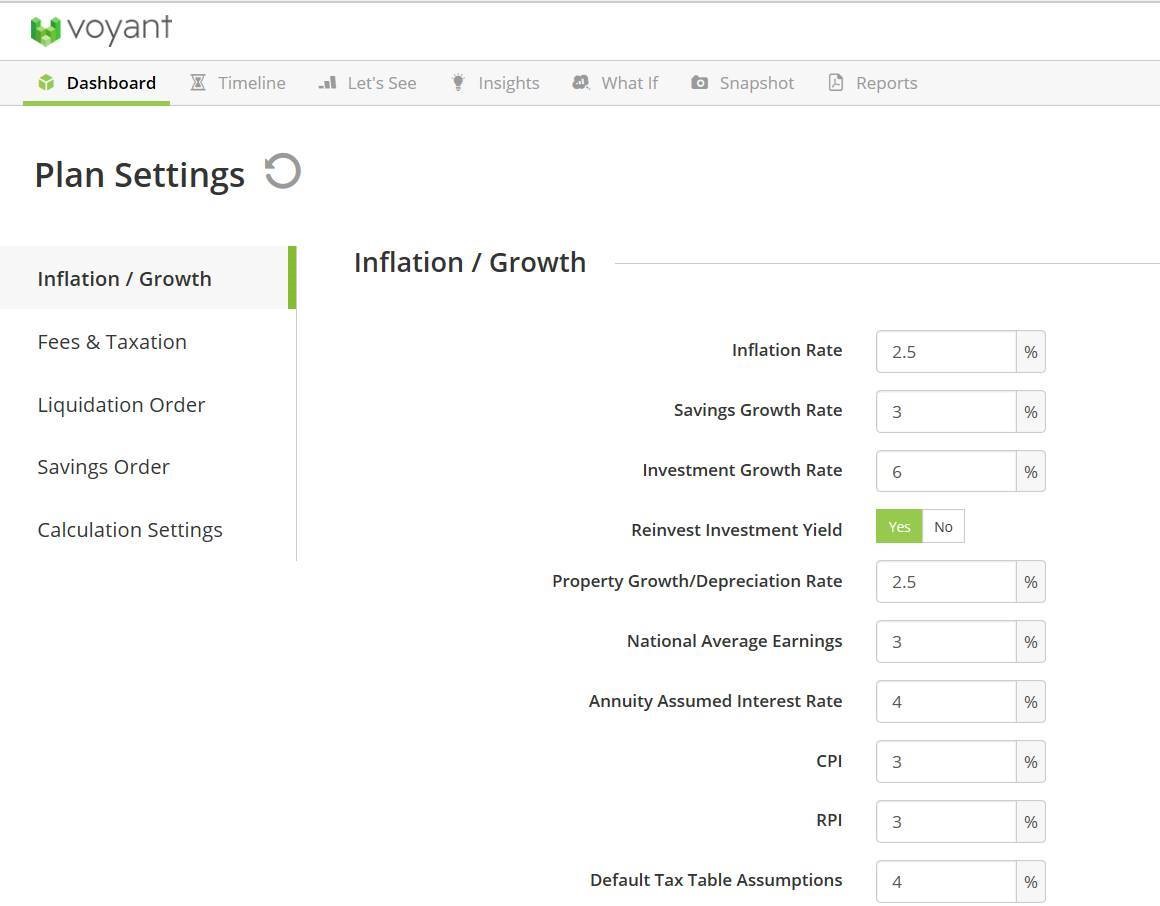 Plan Settings apply only to the client case at hand and can be changed, if necessary, on a per-scenario basis, just as they can be in Voyant Adviser. The same rules of inheritance from the Base Plan apply.
Most of the preferences that can be set at the plan level in Adviser can now also be managed in AdviserGo. There are a few deliberate omissions, such as Market Assumptions, default Asset Allocation, and the default settings for the Major Market Loss simulation. These will likely be added to AdviserGo sometime in the near future, although perhaps not in the Plan Settings. "Child Owned Accounts Available in Plan Until Age" is also an omitted setting.
System Preferences, on the other hand, cannot currently be managed in AdviserGo but they may be added at some point in the future. System preferences serve as a default template of preferences for future client cases and can be managed today in Voyant Adviser. 
Firms that use our rebranding services to manage their preferences can effectively manage the default Plan Settings in AdviserGo as well. The same System Preferences controlled through their rebrand – those that appear in Voyant Adviser – will show as the initial default Plan Settings in AdviserGo, provided they haven't been edited at some point by the adviser.
Application Preferences for AdviserGo
A Preferences option will remain available in the drop-down menu, top-right in AdviserGo. Only now it is reserved for what is the equivalent to the Application Preferences in Voyant Adviser. These settings relate to the configuration of the AdviserGo software. Preferences currently control certain features such as language and contextual clues (help, once populated) that can be shown or hidden in AdviserGo.
Related Articles
New Features in Our January 2019 Release of AdviserGo