To use the Voyant integration with Intelligent Office (IO), you must have active user accounts with both Voyant (as a subscriber or trialist) and Intelliflo.
You must also first set up the integration via the intelliflo app store (log out of Voyant before installing via the intelliflo store).
Once the integration is all set up, log into Voyant and go to AdviserGo as this integration only works via AdviserGo (though anything you make/import in AdviserGo will be also in Adviser).
See this guide if you need instructions for how to log in to AdviserGo: Logging into AdviserGo
Scroll to near the bottom of this guide for a checklist of things to check after import.
When in the AdviserGo home page (where your client list is) click Import client via the + button bottom right.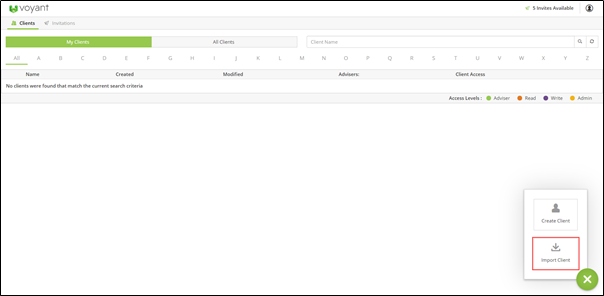 Click IO in the available integrations


and once you've selected your permissions you will see a client search window
Option A - Create a new client record using information imported from Intelligent Office
To import clients that are in IO, but not yet in Voyant click Import Client in the Home screen and search for the client in the window.


You may see some errors when you first import the plan. This could be due to Voyant needing data that it did not find in iO. Click on each error to resolve and to add in this data.

Option B - Update an existing client record with information imported from Intelligent Office
If you already have a client in Voyant that you wish to link to the integration to update information from IO follow the instructions below.
In the client record Dashboard view in Voyant click 'Import'. The system will guide you through the linking process to identify matches between the existing Voyant plan data and the updated client data from Intelliflo.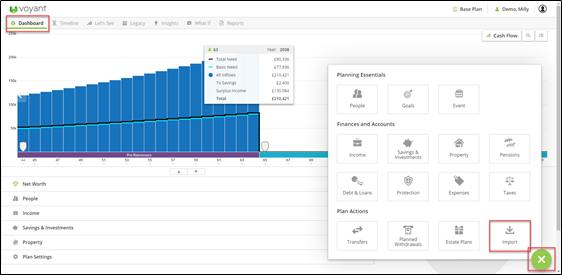 Find this client in the search box and select Merge

NOTE: Selecting Overwrite will start your plan again from the beginning using the IO data pulled through and will not include any existing What If scenarios.
After clicking on Merge a list of Finances pulled from IO will be shown.
Select 'Connect' to link existing entries with IO entries and update these entries with updated values from IO.
To add in a new entry from IO, that isn't currently in Voyant, select Add instead of Connect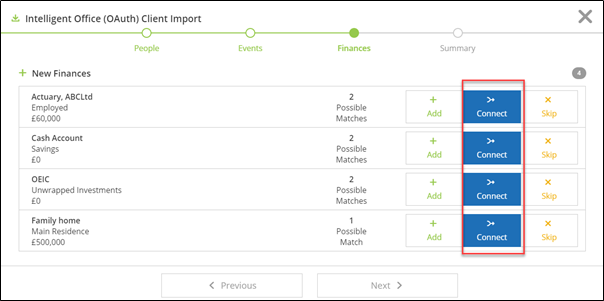 In the Summary screen select which entry in Voyant you would like to connect the IO one to and it will connect and update the values for it: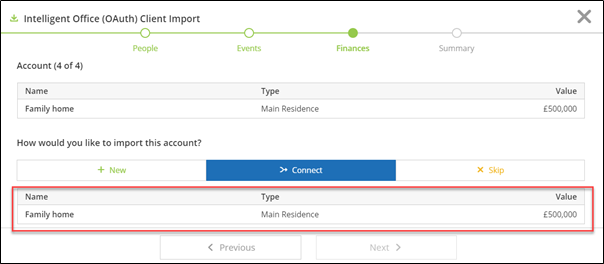 In Dashboard view this symbol shows it is connected to IO

Check the data
For both Options A and B check all the data that has been pulled across via the Dashboard view in AdviserGo.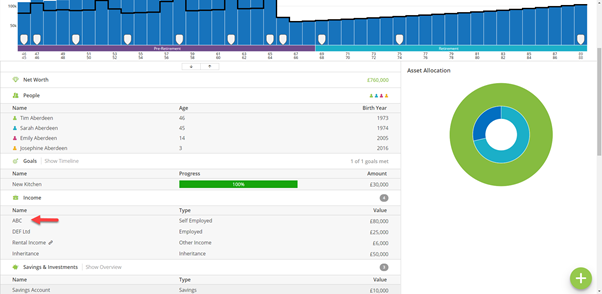 Click on each entry to see the details.
Checklist – Things to check following the import of a client fact find
Below is a quick list of things to check after you've imported a client case.
1. After importing, check the top of the Dashboard screen in the software for error messages. These messages are links, which you can click to jump directly to the item in question and correct the problem. Be sure to read the error message. The descriptions in these messages are usually helpful.
2. Also click on each entry in the Dashboard view to check it is entered as you would like for your Voyant model and complete any missing data. Check particularly the Account Type, Amount, Owner, Growth Rates and Timing; important building blocks in a Voyant plan.
3. Check Purchase Values on Taxable investments and assets. Main Residences and ISAs don't need a purchase value, but other entries will do, so Voyant can calculate the projected CGT upon sale.
4. Check insurance policies are the correct type, amount, premium payments, timing. For example, you may need to add the critical illness part of a Term Insurance (Critical illness) into the Critical illness section of Voyant separately.
5. Check planned future contributions to savings, investments and pensions and check/set the Timing of these contributions. Also set any employer contributions to defined contribution pension schemes, if applicable.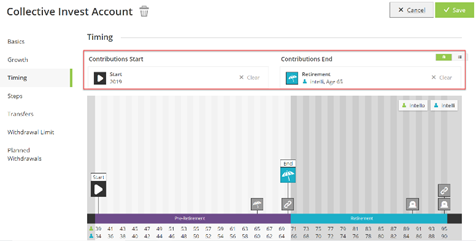 6. If the plan includes properties that have related debts, such as mortgages, and incomes, such as rental income, link these debts and incomes to the related property via the Property entry: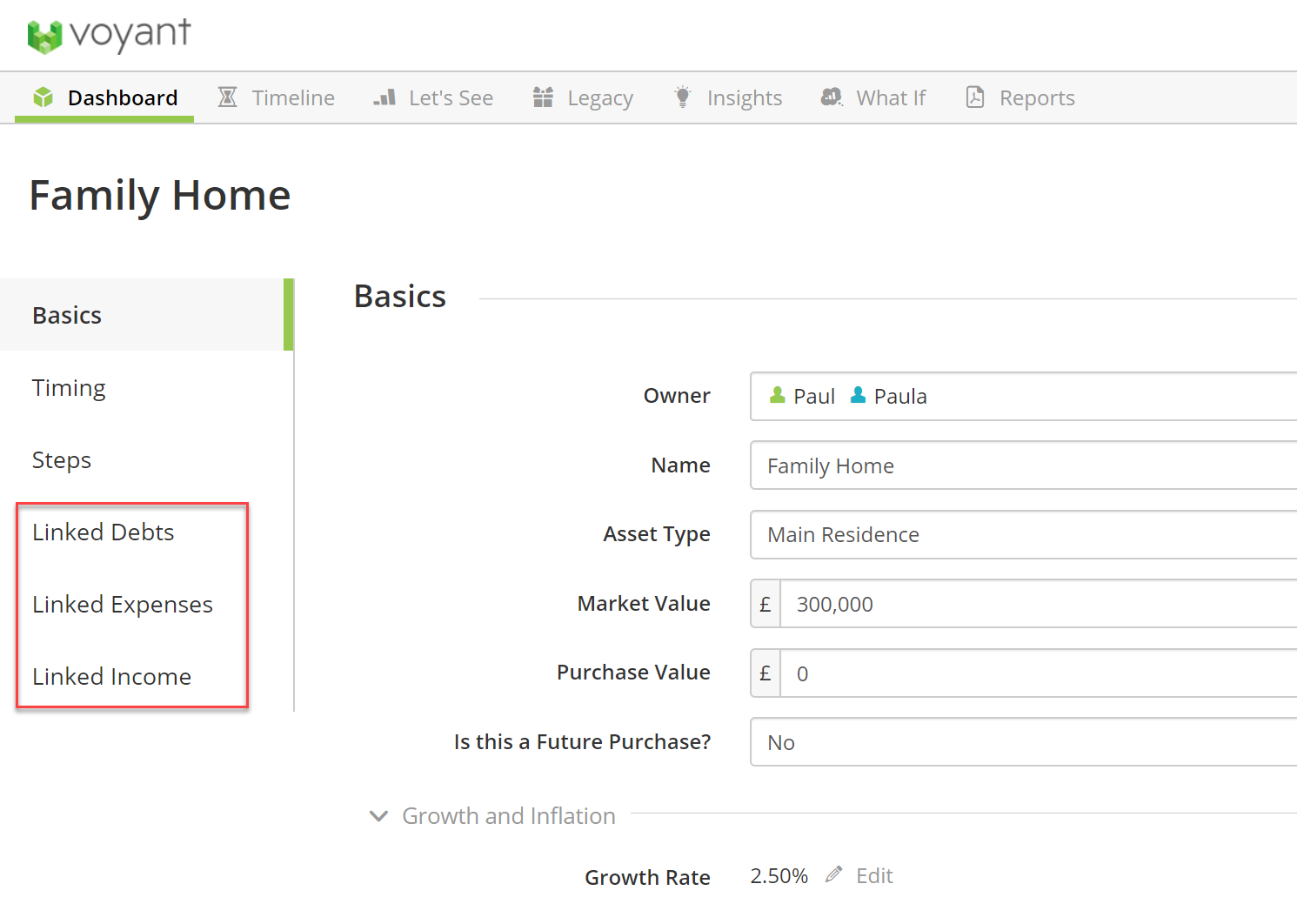 7. Use Voyant to enter items that are not importable.


Some specific notes on this integration:
Note: Gross Basic Annual Income pulls through to Voyant, but exactly how you see it in the Budget > Income screen in iO, so bonuses will pull through separately as 'Other Income'.

To Fix: Delete the 'Other income' entries and enter Bonuses in the connected Employment, so Bonus amounts are subject to National Insurance. Delete the Other Income entry by pressing the bin icon next to the name. Re-enter in the employment entry as indicated below:


Updating the plan at Review
Once linked, update the Voyant client plan at any time by clicking the plus button and selecting "Update".
Firstly, Update and Promote your plan in Voyant to change the Start date and archive last year's plan.

After making any changes in IO you can update your plan in Voyant to incorporate these changes. In Dashboard view click on Update in the + button bottom right and it will walk you through an update wizard.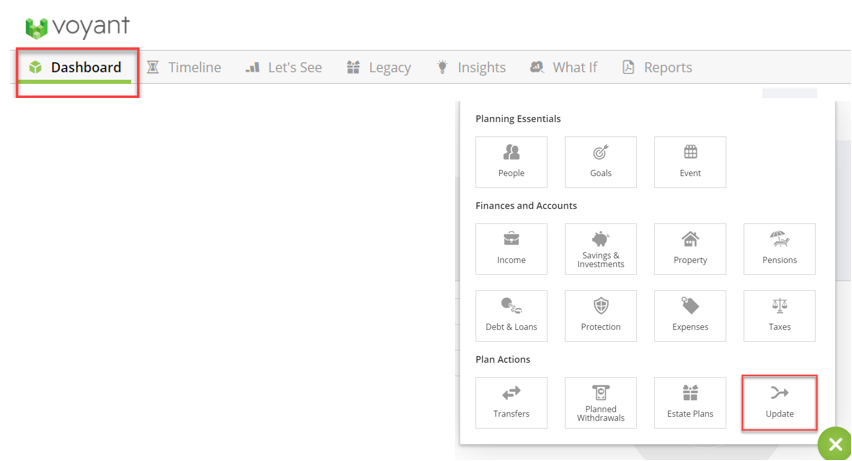 Here is the link to the intelliflo office integration guide:
http://d31ywfz2y02752.cloudfront.net/docs/Integrations/Voyant_Intelliflo_Integration_Guide.pdf
This is the link to the video here https://www.youtube.com/embed/z024EflmgnY
(The process to merge data from intelliflo office once you have imported a client can be viewed towards the end of the video)
Finally, note that this integration works 1-way only at the moment, from IO into Voyant.
Any problems contact Intelligent Office at iosupport@intelliflo.com or Voyant Integrations Team at support@planwithvoyant.co.uk