VoyantGo is our client-facing software. Built on the same platform AdviserGo, VoyantGo offers clients browser-based access to their financial plans in an identical look-and-feel and with access to most of the same features available in our AdviserGo software.
AdviserGo (for advisers) and VoyantGo (for clients) use the same design and present the same view of a client's case. The primary differences are that a client can only view the plans an adviser chooses to share. AdviserGo also allows advisers to create new cases and access multiple client records whereas VoyantGo only displays to your client their own financial plan and any scenarios on that plan the adviser chooses to show.
Below is a plan displayed in AdviserGo (the adviser's view).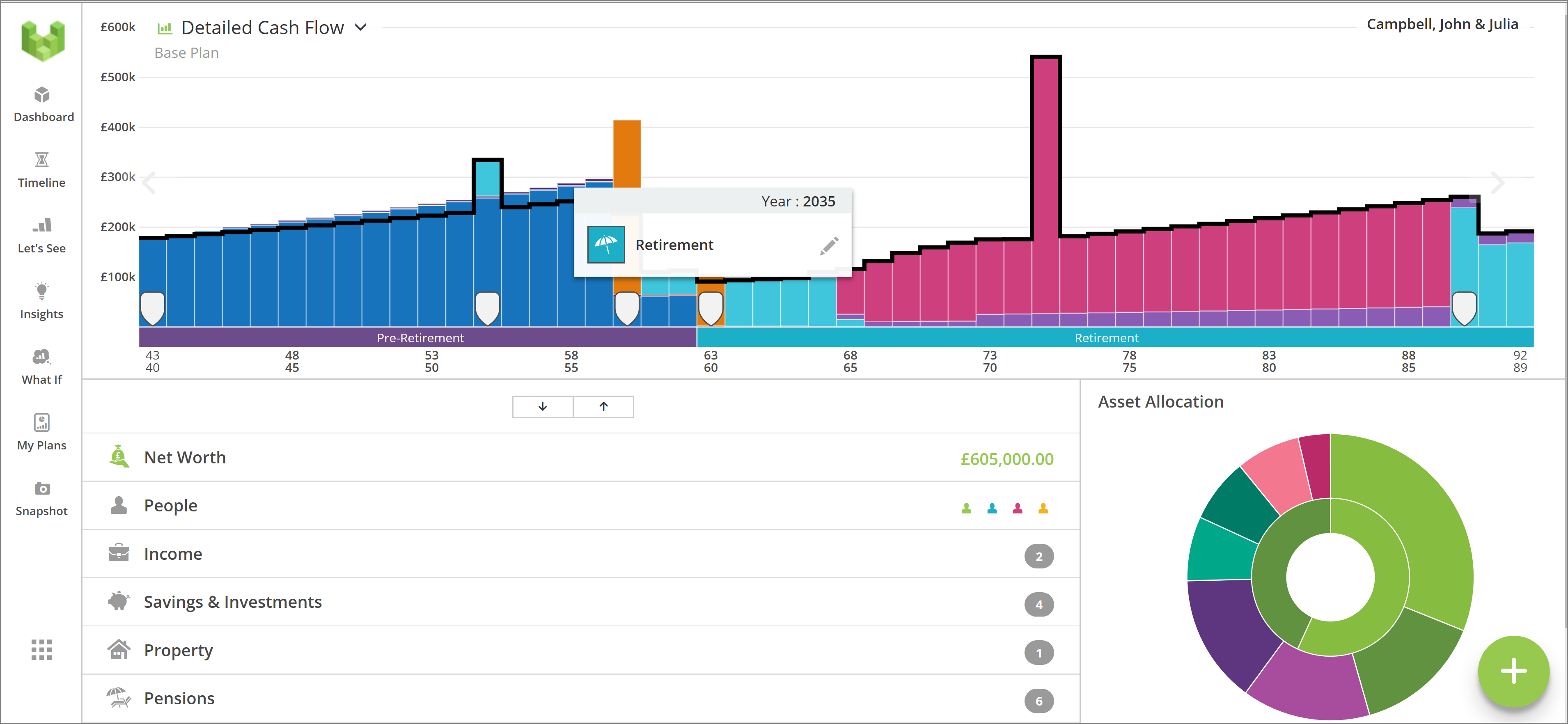 Below is the same plan displayed in VoyantGo (the client's view). These are effectively identical views of the client case.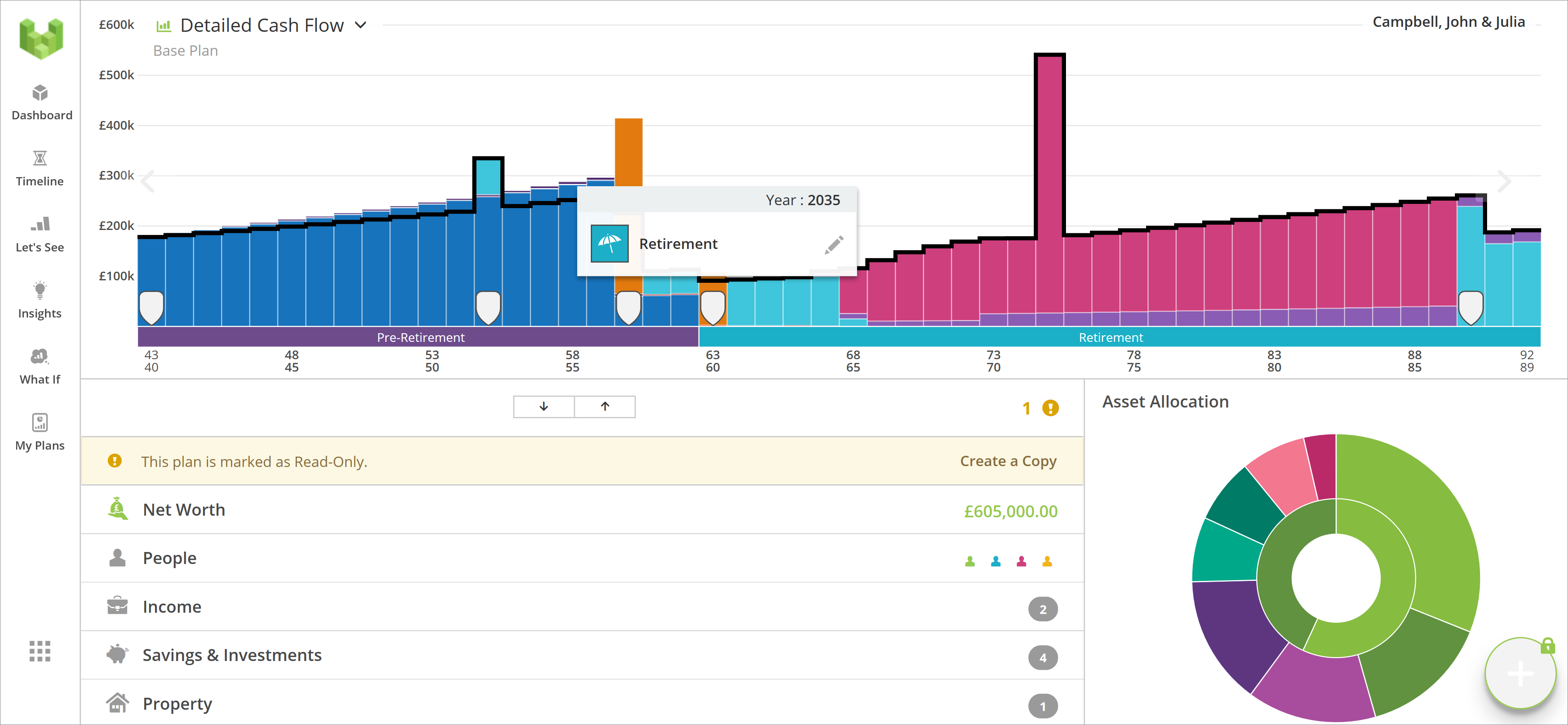 For plans created initially by the adviser, clients are only able to create "what if" plans for their use. Adviser created plans are locked from client editing.

Adviser created "what-if" plans are hidden by default. Advisers choose which plans a client is able to view and access. This is done initially during when inviting a client to access their case.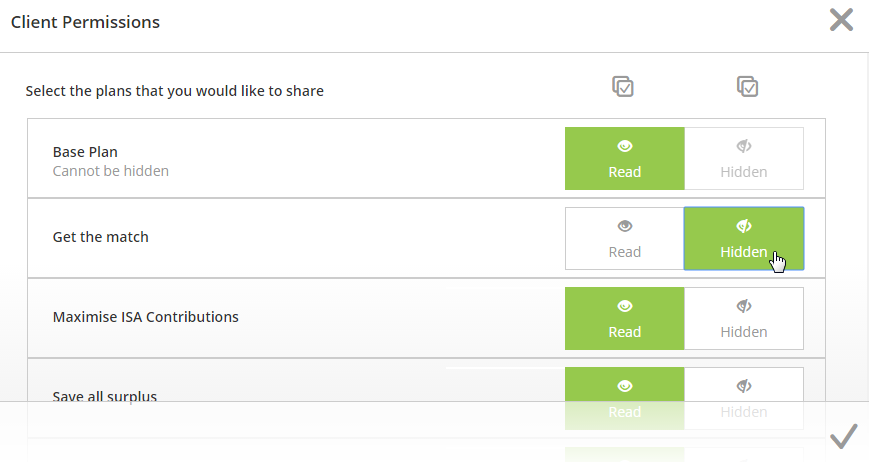 VoyantGo is an optional add-on service
To give clients online access to their plans you will need to invite them to register for a VoyantGo account on our website. To send invitations to your clients, your account must have available VoyantGo licenses.
VoyantGo is available to subscribers as an optional, add-on service. Client licenses can be purchased in blocks of 25.
Details on pricing for VoyantGo licenses can be found here, by country. VoyantGo can be purchased standalone or used together with Snapshot.
If you are trialing Voyant Adviser and AdviserGo, your account comes equipped with two VoyantGo licenses that you are welcome to use with your clients for the duration of your trial. These licenses will expire at he end of the trial unless you choose to subscribe to this service along with Voyant Adviser/AdviserGo.
You choose the clients who will have access. Advisers choose which of their clients have access to their plans via VoyantGo. VoyantGo licenses are not used until the adviser sends an invitation for the client to access the software. If the client never accesses VoyantGo or the adviser chooses to revoke the license, the license will be available for reissue to another client.
Two ways to use VoyantGo with your clients
Advisers can invite clients to use VoyantGo in two different ways.
Most commonly, an adviser or paraplanner will first use Voyant Adviser or Adviser Go to build a financial plan for their client. The adviser can then invite the client to access their plan via VoyantGo.
Clients can, in turn, use the software to review their current long-term outlook as well as the adviser's recommendations, all of which are set automatically to be read-only. Only the advisers can make changes to the cases they create. However, clients do have the option to explore and share feedback with advisers by adding changes via what-if scenarios.
Read more >>
Advisers can also use AdviserGo for initial fact finding. Rather than sharing an adviser-built case, the adviser could invite clients (or possibly prospective clients) to use the software to create their own cases from scratch. The adviser could then review the case and possibly build recommendations from it.
Read more >>
Related articles